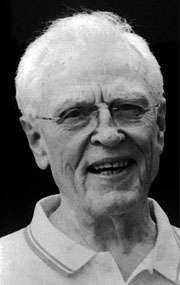 Father Richard Madden
Father Richard Madden, 88, a man of Christ and His Goodwill, whose kind words touched thousands of people throughout the Mahoning Valley, died peacefully on Sat., June 16 at Hospice House.
In 1955, Fr. Madden was assigned to Youngstown as the vicar of the Carmelite Order, charged with establishing a monastery, which he did, on Volney Rd. in Youngstown.
In the late 1980s, the Carmelites dismissed Fr. Madden on a claim of disobedience. It was during this time that he rented a small cottage in the woods off Raupp Ave. in Boardman.
But he continued the services on Volney Rd., and they grew to attract thousands of worshippers, of many denominations for more than a half-century.
"I had no where else to go in my heart," Fr. Madden remarked at the time.
He also led a Christmas Eve mass at Mr. Anthony's famous banquet hall on South Ave. in Boardman that annually drew more than a thousand people.
He became a legendary religious figure in the Mahoning Valley and gained a national reputation for the ways he spoke The Word, always kind and gentle, always powerful words.
In addition to establishing the monastery, Fr. Madden made weekly routes about the Mahoning Valley 'just to check-in,' inspiring those whose lives he touched.
Father Richard Madden was born Raymond C. Madden in Germantown (Philadelphia), Pa., on Feb. 16, 1924, one of the seven sons of Jim and Ann Meehan Madden.
For his elementary education he was sent to Immaculate Conception School of his home parish. From there, he went to the Order's Minor Seminary, then at Holy Hill, Wisconsin.
Upon graduation from the seminary, he began his novitiate training at Holy Hill, and moved with the Novitiate to Brookline, Mass., where his training was completed, and where, on Aug. 30, 1943, he made his first vows. Then it was back to Holy Hill for the study of Philosophy, on to Washington (in due time) for the study of Theology and finally, Ordination to the Sacred Priesthood in the nation's Capitol on Dec.14, 1949.
He also attended the Preacher's Institute at Catholic University, taught homiletics for a time at the Theological College, was Rector of the Minor Seminary from January 1952 to June 1953,
While a monk at Holy Hill, Fr. Madden authored a book, Men in Sandals, about life in a Discalced Carmelite monastery in the decades immediately preceding Vatican II. In his book, Fr. Madden introduced all aspects of monastic life, beginning with his year as a novice, several years as a student, and finally as a priest; covering many topics, from poverty (No Money) to chastity (No Wife) to obedience (No Say) to haircuts ("Not many barbers become monks, so many monks have to become barbers") to diet (fish), etc. Men in Sandals became a national best-seller.
A review of the book said "Through it all, one gets a very human, often humorous, but truly honest glimpse of life as a monastic. The delightful 'pen and ink' style illustrations throughout only add to the book's charm."
He also authored two other books, The Life of Christ for Teenagers, and A Boy in His Teens.
In The Life of Christ for Teenagers, Fr. Madden wrote of his sincere concern for the spiritual needs of modern-day young people. He used their very own idioms to convey to youth forcefully the heart of the Gospel message. Though some have said that it is irreverent to use the dialect of 'hip' teenagers to tell the story of God's love for us...the book is known as remarkable for its sound theology.
In his third book, A Boy in His Teens, Fr. Madden reflected his unremitting effort to give modern youth a sure and solid spiritual foundation upon which to build their lives.
While still assigned to the monastery, Fr. Madden became a popular national voice, preaching at missions and retreats at air bases and in high schools and colleges throughout the United States.
It was especially at youth retreats where he had a unique ability to instill humor and enthusiasm into his messages.
His efforts to carry The Message to missions in 48 of 50 states earned him a Don Bosco Award for his 'nationwide influence on youth.' He was especially proud the only two other recipients that year were Gil McDougal, of the New York Yankees; and heavyweight boxing champ Floyd Patterson.
He was also recognized by the U.S. Air Force for his outstanding work with youth in the armed forces; and once led a week-long retreat for prisoners at Lewisburg Federal Penitentiary.
Fr. Madden's exceptional mannerisms were once described this way by the Carmelite order---"Father Richard Madden is not some matinee idol or professional football hero...If any one of our men deserves the title of 'celebrity' it is he. Father Madden is our Province's author, retreat master, columnist, comedian and unforgettable character par excellence."
While maintaining his base in Youngstown, Fr. Madden offered the opening prayer for the opening session of the U.S. House of Representatives, and received a Certificate of Recognition from the Speaker of the House and was invited to the Reagan Presidential Inauguration.
He also published many articles in journals, newspapers and magazines including TIME, wrote a weekly advice column for Hi Time magazine for 16 years, which was read by millions of teenagers; and was the editor of Mount Carmel Magazine.
Fr. Madden served as President and Chairman of the board of the Western Reserve Transit Authority, operation supervisor for the U.S. Census for Mahoning and Trumbull counties, hosted a Youngstown Safety Councils monthly radio show, was a defensive driving instructor, served as chaplain for the Youngstown Fire Department, was a member of the Youngstown Drug Commission and was a member of the Youngstown Air Base Council.
As a member of the Air Base Council, he was instrumental in procuring air transport for the locally based charity "Mission of Love." He was also a member of the National Speakers Association and Kiwanis International.
Fr. Madden delivered invocations and benedictions at hundred of local events, among them Angels of Easters Seals, the American Cancer Society, the American Heart Foundation, and DeBartolo Memorial Scholarship Foundation events.
He earned his private pilots license, played golf and tennis, and enjoyed skiing and scuba diving. He was also an active member of the Youngstown YMCA and swam 20 laps every weekday.
Along his daily walk about the Mahoning Valley. Fr. Madden always took time for conversation, often with a particular sense of humor. His words had a way of inspiring hope in a way that will be missed by many.
John A. Darnell jr.
Associate Editor