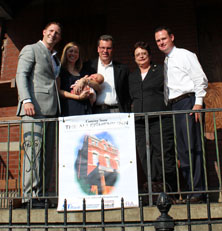 The Allegheny Inn Groundbreaking July 10
Justin Mistovich and Brent Bissell, both 1999 Boardman High School graduates, became friends in elementary school and have remained friends throughout the years. They both have become professionally successful, Justin is Chief resident in Orthopedic Surgery at Allegheny General Hospital and Brent is a commercial pilot and flight instructor. People come across our paths in life and Justin and Brent have shared a path for many years and now have partnered together for a project in Pittsburgh.
It began back in 2008, when Justin Mistovich and Keili Meyer, whom he married in 2009, noticed a building located at 1010 Cedar Ave., in Pittsburgh, which 'immediately caught our eye', says Justin.
"Almost four years later and still on the market, Keili and I again thought of the house after lifelong friend, Brent Bissell's parents, opened a bed and breakfast in Columbiana, OH," called the Columbiana Inn. A house similar in disrepair, which Brent helped his parents restore.
Drs. Justin and Keili Mistovich, with Brent Bissell and Clifford Meyer, Ms. Mistovich's father, are 'The Team' who will restore the old home located at 1010 Cedar Ave., into The Allegheny Inn, a 'Distinctive Bed and Breakfast in Pittsburgh's Historic German Village.'
A group of family and friends began the demolition on June 23. Pittsburgh's mayor, Luke Ravenstahl stated, "Thumbs up to you guys," "People passing by here are thinking, 'Is something finally going to happen with that building?' The fact that two people my age are doing this is exciting."
Dr. Justin Mistovich is the son of Ron and Joyce Mistovich of Boardman. Brent Bissell is the son of Paul and Susie Bissell, owners of the Columbiana Inn.
Justin remarked, the experiences which he and Brent received growing up in Boardman while watching their parents true commitment to the community, has always remained as one of their values and they now carry that sense of pride into their community in Pittsburgh. 'We're going to transform this into a welcoming gateway to this neighborhood", states Dr. Mistovich.
The opening of The Allegheny Inn is scheduled for the Spring of 2013. To view progress in the construction visit alleghenyinn.com.
Pictured at the groundbreaking ceremony on July 10, left to right, Dr. Justin Mistovich, his wife Dr. Keili Mistovich holding their daughter Madeleine Mistovich, Mark Masterson (president of the Northside Community Development Fund, Darlene Harris (City Council President) and Luke Ravenstahl (Pittsburgh Mayor).