Sunday October 1, 2023
Boardman Weather


% humidity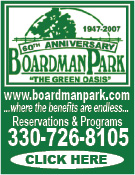 Panerathon Raises Funds for Joanie Abdu Comprehensive Breast Care Center
August 30, 2012 Edition

photos/Howard Reese

 6000 RUNNERS AND WALKERS of all shapes and sizes participated on Sun., Aug. 26 in the third annual Panerathon that was staged at the Covelli Center in downtown Youngstown. The event raised funds for the Joanie Abdu Comprehensive Breast Care Center on the campus of St. Elizabeth Hospital, Belmont Ave., Youngstown. The Mahoning Valley has the fourth highest breast cancer mortality rate in the United States. Some participants at right are Michael Mannozzi, of Boardman, national champion race-walker; and Dr. Rashid Abdu, who led the effort to build the breast care center in memory of his wife, who lost her battle with the disease.