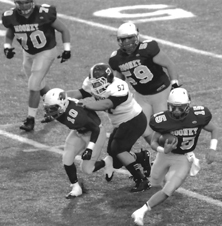 MOONEY QUARTERBACK DENVER MARTIN, 15, breaks free during action last Friday night against Boardman at Stambaugh Stadium.
Cardinal Mooney only got stronger after building a 14-0 first half lead and cruised to a 37-0 victory over the Boardman Spartans last Friday night at Stambaugh Stadium before a throng of 9500 fans.
Both teams evened their records at 1-1.
Justus Ellis-Moore ran for 187 yards and scored two touchdowns to set the pace for the Cardinals.
Mooney travels to Mollenkopf Stadium in Warren this Saturday night, while Boardman plays at home against Akron Hoban on Friday night.
The Cards got the first possession of the game last Friday night and chewed-up almost the first six minutes of play, reaching the 9-yard line. But Justin Gardner stopped Card quarterback Denver Martin on first down; and Doug Brandt clipped tailback Marcus McWilson to force a fourth down field goal that was blocked.
The Spartans had special teams problems throughout the game, one of which handed the Cards a touchdown when Mark Handel galloped 70 yards with a punt return to give Mooney its first touchdown of the game at the 6:02 mark of the second quarter. The play began with a low snap from center to Spartan punter Aaron Davis.
The Spartans went three and out on their next possession, as Chris Brandenstein sacked Boardman quarterback John Babos on second down, and Anthony Dermotta put the wraps on Nate Jones on third down.
Seven plays later, Ellis-Moore tallied from 37 yards out and Mooney took a 14-0 lead into the halftime lockeroom.
Mooney had another chance to score late in the half when the Cards took advantage of a bad center snap on a punt and got the ball at the 27-yard line. A Jamar Steverson pass interception at the goal lone quelled the threat as the first half expired.
After a scoreless third period, the floodgates opened on the Spartans in the final stanza as Mooney reeled-off 23 points, that included a safety, and Ellis-Moore 42-yard burst, a McWilson run and a one-yard surge from Ron Quaranta.
On the game, Boardman held a 10-9 edge in first downs, but Mooney dominated, holding a 328-149 advantage in total offense.