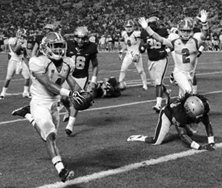 ANDRE STUBBS, 4, SCORES ONE OF HIS TWO TOUCHDOWNS last week for Youngstown State in their big 31-17 victory over the Pitt Panthe
For the first time in school history, Youngstown State knocked off a BCS foe with an impressive 31-17 victory over Pittsburgh at Heinz Field last Saturday night in the season opener for both schools before 40,837 fans.
Andre Stubbs and Will Shaw each scored two touchdowns as the Penguins never trailed in the game and led by as many as 18 points in the second half. Stubbs got YSU on the scoreboard in the first quarter when he caught a 27-yard toss from Kurt Hess. After Pitt tied the game later in the quarter, Hess zipped a 14-yard scoring toss to Shaw with 10:14 left in the second to put YSU on top for good.
In the second half, tailback Jamaine Cook threw a 23-yard halfback pass for a touchdown to Shaw on a fourth-and-1 situation with 12:07 left in the third. Early in the fourth, Stubbs found paydirt from 13 yards out to extend the advantage to 28-10. Pitt pulled within 11 points, but David Brown's 25-yard field goal with 3:02 left gave YSU the two-touchdown victory.
Stubbs accounted for 172 all-purpose yards (71 rushing, 61 receiving, 40 kickoff returns) in the contest. Cook led all rushers with 89 yards on 21 carries and had an impressive night as a lead blocker for Stubbs.
Home Opener Saturday
Following their impressive victory over Pittsburgh, the YSU football team plays its home opener this Saturday against Valparaiso.
Kickoff at Stambaugh Stadium, in the first of thee, straight home games, is set for 4:00 p.m. 'They're saying' YSU's big win over Pitt has resulted in a boom in ticket sales for the game.
New Faces on Defense
The Penguins relied on some new playmakers on defense to make big plays in the win against Pittsburgh.
In the first quarter, junior college transfer Dale Peterman stripped the ball from Ray Graham and YSU's Jeremey Edwards recovered. It was Peterman's first Division I collegiate game and his first college football game since 2010.
In the fourth quarter, junior college transfer Julius Childs forced a fumble by Devin Street and fellow juco transfer Twin Fernandes pounced on the ball to seal the upset victory.
Peterman (9) and Childs combined for 16 tackles while tailback-turned-nickelback Parnell Taylor chipped in four more.
Milestone Update
Penguin tailback Jamaine Cook is closing in on the 3,000-yard mark for rushing yards (2,862). TB Adaris Bellamy is 110 yards shy of 1,000. QB Kurt Hess is within reach of the 5,000-yard mark for career passing yards with 4,739. He threw the 40th touchdown pass of his career at Pittsburgh last Saturday. Junior punter Nick Liste is four attempts shy of 100 punts for his career.
The National Rankings
The ranked teams in the Missouri Valley Football Conference performed so well this past weekend that Northern Iowa lost its game but still rose in The Sports Network FCS Top 25 rankings.
It didn't hurt that the Panthers put a scare into reigning Big Ten champion Wisconsin during the opening weekend of college football.
And the biggest move in the Top 25 belonged to Youngstown State, which moved up seven spots to No. 6 on the heels of its 31-17 triumph at Pittsburgh, the Missouri Valley's first win against a Big East school.
Along with No. 2 North Dakota State, which opened defense of its 2011 FCS national title with a 52-0 rout of Robert Morris, and No. 8 Northern Iowa, which fell at Wisconsin, 26-21, the Missouri Valley has three teams among the top eight in the poll.
No. 1 Sam Houston State was the lone team to have a bye in Week 1. The defending Southland Conference champions will open their season on Saturday by hosting Incarnate Word.
After North Dakota State (1-0) remained at No. 2, Georgia Southern (1-0) was at No. 3 following a 58-0 victory over Jacksonville. Then it was No. 4 Montana State (1-0), which beat Chadron State, 33-6, and No. 5 James Madison (1-0), which handled St. Francis (Pa.), 55-7.
No. 6 Youngstown State (1-0), received seven first-place votes in Monday's poll.
The Penguins won four FCS (then Division I-AA) national championship during the 1990s, and Monday's ranking was their highest since they were No. 6 in the Sept. 10, 2007 poll.
"We've got to move on. We've got bigger fish to fry. And that's what we're measured by," coach Eric Wolford said after the win over Pittsburgh.
Old Dominion (1-0) was ranked No. 7, followed by No. 8 Northern Iowa (0-1); No. 9 Eastern Washington (1-0), which impressed with a 20-3 win at Western Athletic Conference member Idaho; and No. 10 Wofford (1-0).
Stambaugh at 30
The first-ever on-campus home of the Penguins, Stambaugh Stadium will be celebrating its 30th anniversary in 2012. The beautiful facility, built by A.P. O'Horo, opened in Sept., 1982 when the Penguins played host to Akron. YSU has six home games this season. All-time in the facility, the Penguins own a record of 144-52-1.
YSU's key three-game September homestand continues on Sept. 15 when it plays host to Albany, a 2011 FCS Playoff participant and co-champion of the Northeast Conference, at 4 p.m.
More than 2.5 million fans have attended a YSU game in the Ice Castle. The 200th Youngstown State contest will be against UNI on Sept. 22. A crowd of 20,000 or more is expected.
And that game is one of the first of several big catches Coach Wolford would like to put in the frying pan this season.
Youngsown State could go into the game unbeaten at 3-0; while Northern could be 1-2, after facing two Big Ten foes (Wisconsin and Iowa) in its first three games. The Panthers will come into Stambaugh Stadium on Sept. 22, after facing the Hawkeyes the week before.
The game will also open Missouri Valley Conference play, where the loop winner earns an automatic playoff berth.
Youngstown State hasn't beaten Northern Iowa since 1999.
The Panthers opened last week, falling to #12-ranked Wisconsin, 26-21. The Badgers came into the game as 33-point favorites.
Northern Iowa's red-shirt freshman quarterback Sawyer Kollmorgen finished his collegiate debut 18-24 for 256 yards and three touchdowns.