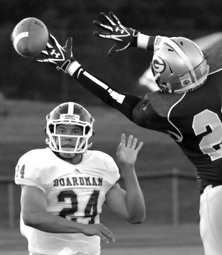 Spartan Quaterback John Babos, 24
Turel Thompson tallied three touchdowns, including the game winner, to lift the Boardman Spartans to a 35-28 upset victory over #7-ranked Canton GlenOak last Friday night in Plain Township.
The Spartans head to Austintown Fitch this Friday night when they take on the school that helped to dismantle the fabled Steel Valley Conference years ago. After leading the dismantling of the SVC, Fitch than backed-out of the Federal League. The Falcons are currently 4-0 on the season and ranked #2 in Region I OHSAA ratings and #9 in Ohio.
Boardman holds onto the #10 spot in Division I region I ratings.
Last Friday night, GlenOak took the lead early in the first quarter, but Boardman bounced right back when Thompson took a screen pass from quarterback John Babos and darted 30 yards for the Spartans first score of the game. Dan Gotham added the first of his five extra points kicks in the game and gave Boardman a 7-6 lead.
Thompson then lifted the Spartans to a 14-6 margin when he intercepted a Reid Worstell pass and ran 65 yards for a score.
GlenOak answered this time and added a two-point PAT on a pass play to knot the game at 14-14.
Still in the first half of play, Boardman took the lead when quarterback Babos ran 45 yards for a score; and then late in the second quarter the Spartans tallied on a 49-yard Babos to Gator Jones pass connection for a 28-14 lead.
GlenOak came back to tie things up at 28-28, but the Spartans were not done.
Thompson crossed the goal line from 8 yards out to give the Spartans a 35-28 lead.
Any hopes GlenOak had for a win vanished when a snap from center sailed over Worstell's head and was recovered at midfield by John Babos with just a minute and a half left in the game. GlenOak had reached the Boardman 22 yard line before the miscue.
On the night, the Spartans had 367 yards of offense while GlenOak had 365 yards.
Babos ended with 183 yards passing on 11 of 14 aerials, and also rushed for 75 yards.
Spartans head coach Mark D'Eramo lauded the play of Thompson, a junior; and credited John Babos for his play on both sides of the ball.
"Scoring 35 points against a team like GlenOak is a credit to our offensive line that continues to play well," the coach said, adding that "Defensively we played well at times. But we gave up too many big plays and made several mistakes. We must improve in these areas.
Defensive standouts in the game included Justin Babos, Evan Croutch, Ryan Ebie, Les McIntosh, as well as John Babos and Thompson, the head coach said.
Coach D'Eramo said that Austintown has been playing well in all three phases of the game.
"They are big, physical and have many athletes. We will have to control the ball and be physical on both sides of the line. It should be another great high school football game."
Kickoff at Falcon Stadium is set for 7:30 p.m.