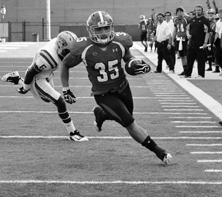 YSU Tailback Jamaine Cook, 35
The Youngstown State football team opens Missouri Valley Football Conference play on Saturday against their longtime nemesis, the University of Northern Iowa Panthers at Stambaugh Stadium. Kickoff is set for 7:05 p.m.
Youngstown State enters the game at 3-0, while UNI comes to Stambaugh with a 1-2 log, including a pair of losses to Big Ten foes, Wisconsin (26-21) and Iowa (27-16).
The Penguins own a 31-17 win over the Pitt Panthers this year, a team that beat #13-ranked Virginia Tech, last weekend.
Going into the game, the Penguins are ranked #3 in the country by The Sports Network, while UNI enters rated #8, despite their won-lost mark.
But toss the records out when UNI faces the Penguins. Dating back to 1999, Youngstown State has only beaten the Panthers twice. UNI has seemingly got YSU's number. In 26 games against the Panthers, Youngstown State has only won six times, the last coming in 2000 when the Pens posted a 28-24 victory. That game saw among the largest crowds ever at Stambaugh, more than 21,000 fans.
In a 31-24 win over Albany last week, Youngstown gave-up more than 220 yards passing. Their secondary will be strongly tested this weekend when the Panthers come to town.
UNI's offense features a red-shirt freshman quarterback, Scott Kollmogren, who is averaging 272 yards a game through the air. The Panthers are averaging just 98 yards a game on the ground.
Youngstown State's offense is led by junior quarterback Kurt Hess and senior tailback Jamaine Cook.
Hess comes into the UNI game averaging 158 yards a game through the air, while YSU's ground game has netted some 250 yards a game in three contests. Showing strong, despite limited playing time has been tailback Torian Pace, who has toted the ball 26 times and averages some 7.7 yards a carry.
The Penguins come into Saturday's big match-up scoring 40 points a game while their defense has yielded just 13.7 points a game.
UNI enters averaging 32 points a game and has given-up an average of 17.7 points a game.
In last weekend's win over Albany, Youngstown State's secondary, a problem over the past several seasons, looked porous at times.
Youngstown State used a solid running attack and the Penguins defense had a strong second half to hold off upset-minded Albany before close to 16,000 fans.
The Great Danes took a 7-0 lead when quarterback Will Fiacchi connected on a 44-yard touchdown pass to Cole King just over five minutes into the contest.
YSU answered when Cook scored the first of his three rushing touchdowns, tying the contest at seven.
Cook put the Penguins on top 14-7 with a seven-yard score early in the second quarter, but the Great Danes tied the contest when Omar Osbourne scored on a 32-yard run.
Cook's third touchdown run of the first half gave the Penguins another seven-point lead, but with nine seconds left before halftime, Fiacchi connected with Drew Smith for a nine-yard scoring toss.
The Penguins went in front 24-21 on a 25-yard David Brown field goal late in the third before taking their biggest lead of the day with 2:48 remaining in the game when Pace scored from a yard out on fourth-and-goal at the Albany one.
The touchdown drive started when YSU defender Ali Cheaib blocked an Albany punt to give the Penguins the ball 28 yards from paydirt. From there, a second down Hess to Christian Bryan pass moved YSU to the 6 yard line. After Albany stopped Cook three straight times, Pace took the ball over from a yard out on fourth down to all but seal the victory for the Penguins.
Cook went over 3,000 yards rushing for his career. Cook has 3,069 yards on 594 attempts. He scored three touchdowns in the win over Albany, the third time in his career he scored at least three touchdowns in a single game.
QB Kurt Hess went over 5,000 yards passing for a career as well in the game. Hess has thrown for 5,060 yards in his YSU career.
Of note, YSU is 8-0 in Missouri Valley Football Conference openers played at Stambaugh Stadium. The contest against UNI is the 200th at Stambaugh Stadium, which opened in Sept., 1982.
All-time the Penguins are 146-52-1 in the Ice Castle.