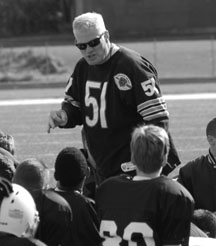 Coach Dan Lyons
For the 13th time in the past 44 years the St. Charles Lions fifth and sixth grade football team will contend for a league championship when they travel this Saturday to Hermitage, Pa. to take on Holy Family. Through the more than 44 years of the youth football team, there has been one---well perhaps two, constants with each and every team.
First, there has been a member of the Lyons family as the head coach of the St. Charles team for all those 44 years. Jack Lyons headed the program for 20 years, and his son, Dan Lyons, stepped-in when his dad retired, and has served as Lions head coach or the past 24 years,.
And the other figure who has been following the young Lions is Jack's wife, Rita, who has sat through more than 300 games, rain, shine or snow, watching the kids play.
"I can honestly say, I don't think there's a bigger youth football fan in the Mahoning Valley," Dan Lyons said of his mom this week. "She never misses a game."
Together the Lyons father and son coaching team has led Lions teams to a dozen league titles during their more than four decades at the helm.
The Lions move into this weekend's title fray carrying a 5-2 mark while Holy Family enters unblemished at 7-0. St. Charles two losses this season came at the hands of Holy Family, 12-7 and 8-6 (a game where a two-point conversion was nullified by a penalty that decided the outcome).
Dan Lyons has been on the St. Charles gridiron since he was 5-years-old, first watching his dad coach, then as a member of the Lions teams.
"It just sort of went from there," Dan said this week.
Despite their record of championships, Dan Lyons is the first to point out that playing youth football is not about winning every game.
"It's about participation and a positive experience," Lyons said.
"I try to teach the kids to do the best they can and work hard so they can get a taste of the greatest team sport there is. It's not about winning every game, it's about participating and having a great experience."
Lyons has had some great coaches teach him the ropes, especially legendary Mooney head coach Don Bucci. Lyons played for 'The Dom' on Mooney state title teams of 1980 and 1982. Those two teams posted an overall mark of 23-2 and Bucci had an assistant coach who also had an impact on Lyons, Ronnie Stoops. (His son now is head coach of one of America's premiere college teams, the Oklahoma Sooners).
"I learned a lot from those five-hour practice sessions at Mooney with Coach Bucci and Coach Stoops," Lyons said.
"I enjoy coaching the kids, and I am blessed with the time to do it," Lyons said this week, adding" Someone always did it for me."
Along the way, two of his assistant coaches have provided their valuable time to help Lyons---namely Jim Tuminello and Nick Julian.
"Those two provided me with invaluable help. First, Tummie was there for the kids, and now Nick has been with me for many years. I an thankful for their help."
Some pretty good grid players have played under Dan Lyons. Notably, the McCarthy brothers, Kyle and Dan, began their grid careers with the Lions and both went on to play on state title teams at Mooney and then played at Notre Dame.
Jim Tuminello's four sons, Chris, Brian, Nick and Kevin, all began their days on the gridiron under Lyons, and all four went on to play in college.
The list goes on---The famed Finnerty kids, former Mooney quarterback John Beck, ace Boardman Spartan running back Steve Gresock, former Spartan and West Virginia star Mike Villagrana, the Rich brothers, Jeff and Mike; Andy Bushey who went on to gain All-American honors in baseball at Notre Dame; rugged Card linebacker Mark Brandenstein; and Joe Gregory, who now serves as president of minor league baseball and hockey teams in Norfolk, Va. are just a few of the names who had their first introduction to team sports under Coach Lyons.
St. Charles for many years shared practice fields with nearby Center Middle School.
Coach Lyons says former Center mentor Tom Draper, who led Center teams to more than a dozen unbeaten seasons, also had an influence on him.
"We worked well together and I learned a lot about coaching kids from Tom," Lyons recalls.
Lyons, who works as an environmental consultant for the Ford Motor Co. in Cleveland, has to drive more than 100 miles a day to and from work, except for the football season, when he has to be at practice.
Next season, Lyons is expected to be in his role as head coach of the Lions fifth and sixth grade team, but the season will take on a new twist---It will be the first time he has ever coached one of his children. His son, Dan, enters the fifth grade next season.
Lyons and his wife, Kelly, have three kids, Dan, Katie and Brian.
The St. Charles fifth and sixth grade grid team earned their berth in this weekend's title game with a 32-16 win over St. Christine in a game played at Cardinal Mooney last Saturday.
Scoring touchdowns for the winners were Cam Kreps, Mark Phillips, Mike O'Horo and John Murphy. O'Horo added an extra point, and the Lions also had extra point scored when Murphy tossed a pass to Jimmy Moss.
The Lions took a 14-0 lead into the halftime lockeroom of that game.
Defensive standouts for the Lions in the game included Tino Acuri, Carson Mediate, Nick Leombruno, Jarrett Hershberger, O'Horo and Kreps. Both O'Horo and Acuri notched fumble recoveries.
Acuri, Mediate and Jeremy Thornton keyed the offensive line.
Heading into the title game, here's the complete roster of this year's St. Chuck's fifth and sixth grade grid team:
John Murphy, James Yukech, Connor Miller, Wrentie Martin, Zack Gainin, Jacob Smit, Jimmy Baker, Sammy Santangelo, George Decesare, Mark Phillips, Carson Mediate, Jack McGlone, Stephen VanSuch, Nik Cunningham, Joey Kordupel, Jarrett Hershberger, Cam Kreps, Jeremy Thornton, T.J. Starr, Anthony Baglama, Luke Pipala, Griffin Schantz, Johnny Geras, Jimmy Maass, Josh Alessi, Mike O'Horo, Ryan Davenport, Nick Leombruno, Lou Gentile, David Hoffman, Kyle Frommelt, Joe Granchie, Colin Rushen, Tino Acuri, Brady Leugers and Dante DiGaetano.