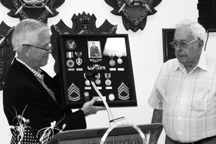 Carl Will Receives Medals From Congressman Bill Johnson
A surprise ceremony was held on Sept. 4, at the Columbiana American Legion Post 290, in Columbiana, to honor Carl E Will, for his WWII accomplishments.
Congressman Bill Johnson presented Carl Will with medals he had never received for his service during WWII along with a Certificate stating that the flag which flew over the U S Capitol on that day was presented to him. He received a certificate for his 50 years of membership in American Legion, he is also a member of the Disabled American Vets. The 65 in attendance included Columbiana City Council members, Columbiana City Mayor, a Color Guard, The District Commander of Ohio American Legion, The American Legion Post #290 Commander Dick Simpson, Channel WKBN27/33, Salem Morning Journal, and other dignitaries, along with members of the community and his family.
The family of Carl Will, including daughter, Linda (Dave) Skillman of Columbiana and grandson, Matt Skillman of Boardman, exhausted all attempts to locate and receive documentation of his service during World War II and the medals that he is entitled to, but never received. They wish to honor their father and grandfather Carl, who is now 87 years old, for they are very proud of his selfless sacrifice defending our 'Great Nation'.
Matt decided to make one last attempt for his grandfather, by contacting Congressman Bill Johnson. His letter to Congressman Johnson included the following plea:
"My grandfather, Carl E Will, is a Veteran of World War II. He served in the 464th BG out of Pantanella Itay. He flew many missions as the crew of the B-24 Liberator (42-52479) "Little Lulu". He also flew "The Hump" as part of the Air Transport Command. He was honorably discharged in August of 1945. Other than a few photographs and his discharge papers, little remains of his service in the Air Corps. A fire in the National Personnel Records Center on July 12, 1973 destroyed many files, which unfortunately included his. They contacted the National Personnel Records Center and they do not have his records on file and claim that they were most likely stored in the area that sustained the most fire damage on that tragic date. Carl Will is now 87 years old. He is a Purple Heart recipient, being wounded during a combat mission on July 6, 1944".
Matt continued, "This would mean so much to our family to be able to honor him while he is still with us. Anything that you could do to help facilitate this endeavor would be sincerely appreciated. His discharge papers included: "Decorations and Citations": EAME Theater Ribbon w/5 Bronze Stars per WD GO #33/45; Asiatic Pacific Theater Ribbon w/1 Bronze Star per WD GO #33/45; Purple Heart per GO #5, Hqs 464 Bomb Gp. Air Medal w/3 Oak Leaf Clusters per GO #1266, #1810, #3312, #3348, Hqs 15th AF/44. Under "Remarks", it says: Distinguished Unit Citation w/1 Oak Leaf Cluster per GO #93, #5507, 15th AF/44, No lost time under AW 107; Lapel button issued. Battles and Campaigns: Central Burma, Rome-Arno, Normandy, Northern France, Southern France, and Air Offensive Europe."
Bryan Blakeman of Valley Office Solutions in Boardman, made a follow up contact to Congressman Johnson, and remarked, "that one day after notification, Congressman Bill Johnson and his staff was aggressively pursuing all means necessary to help this veteran get the honor that he was due".
In less than two months Matt Skillman, was copied a response letter sent to Congressman Johnson. In addition to the letter, saying that his records were most likely destroyed in the fire of 1973, a Form 13059 (Entitlement to Awards), was attached, which was very helpful. Matt contacted the HQ Air Force Personnel Center at the Randolph AFB regarding the missing medals and awards. Matt states, "They were very helpful and were able to send to me those medals".
Carl was a former Boardman School Bus Driver, who was best known to treat his students to Dairy Queen in Boardman on the last day of school. He also had a VW auto repair shop on Western Reserve Rd. He currently lives in Florida, but spends the summers in town and finds time to visit with other retired Boardman bus drivers, fellow retirees from the Erie Lackawana Railroad and his long-time friends. Carl has attended the Annual 464th Bomber Group Reunion over the years. The most recent Reunion was in Dearborn, MI, last month.
Carl Will was married to his first wife, Mildred ("Millie") for 31 years. He married Shirley Wittkugle in 1982 and she passed away two years ago. His parents were Carl E Will, Sr. and Bessie Will from Youngstown. Two brothers, Howard and Walter (who both served in the military) and two sisters, Helen Kleeh and Edna Hixenbaugh (who resided in Boardman), are deceased.
Carl has been blessed throughout his lifetime with a loving family which includes: Children: Thomas (Peg) Will; David Will (US Army 1969-1971, died March, 2012); Jan Daley; Patricia Will; Linda (David) Skillman; Lynda (Jeff) Dick; and Laurie Wittkugle. Grandchildren: Scott (Dr. Janet) Will; Michelle (John) Hamstra; Kristy (Andy) Vargo; Chad (Amanda) Will; Erin (Carmen) Pezzone; Matt Skillman; Sarah (Dom) Italiano; Jessica Skillman; Rodney (Jessica) Ramps; Rachel Ramps; Roxanne Ramps; Renee Ramps; and 15 great-grandchildren.