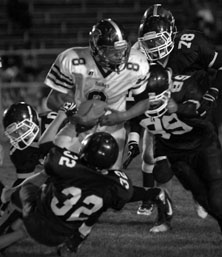 Sean Birchfield,8, tallied the winning extra point
In the 2012 Spartan Bowl between crosstown rivalries, Glenwood's football team defeated Center, 8-6, in overtime.
The Glenwood defense forced five Center turnovers, with three fumble recoveries coming from Sean Birchfield and one each by Anthony Davanzo and Nick Stamp.
After a scoreless first half, Glenwood turned the ball over twice in the second half, one on an interception and another on a blocked punt. The blocked punt put Center inside the Glenwood 20 yard line. The GM defense held and took possession on their own 6 yard line. then began a fourth quarter drive that covered 93 yards. Gaven Strines completed a 35 yard pass to Anthony Davanzo at midfield. GMS continued to move the ball and connected on a pass from Strines to Davanzo to reach the Center one yard line as time expired.
In overtime, GM took the ball on the opening possession and Gaven Strines hit Anthony Davanzo on a beautiful 20 yard touchdown throw. Sean Birchfield then capped off the possession with a hard charging two-point conversion that put GM up 8-0.
Center responded with a touchdown of their own, scored by Austin Barone, but the GM defense held and stopped Center two yards short of the goal line on the extra point to seal the victory.