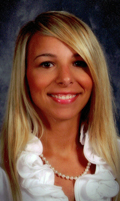 Ashley Clark
Ashley Clark, fifth grade teacher at Sunflower Elementary in Paola, Ks, was surprised during a school assembly on Jan. 11. The assembly was interrupted by Dr. Diane DeBacker, Kansas commissioner of education, when Ashley was informed that she was selected to receive the 2013 Horizon award which is given to first year teachers who perform in a way that distinguishes them as outstanding.
The Kansas Horizon Award program, sponsored by the Kansas State Department of Education, identifies and recognizes representatives of excellent teaching in elementary and secondary classrooms of the state.
"I was very blessed to have the opportunity to have my first year of teaching in a phenomenal school district and at Sunflower Elementary," Ashley said. "Mrs. Wokutch, the fifth-grade teachers, and the rest of the Sunflower staff are an inspiring group of people to work with each day. In my first year, I had very supportive parents and a group of kids that made coming to work a joy. I credit my success in my first year of teaching not only to my dedication but also the support of my students, parents and peers."
Ashley resides in Overland Park, Ks. She is a graduate of Boardman High School and St. Mary's College, Notre Dame, In. She is the daughter of Ted and Kathy Clark of Boardman.