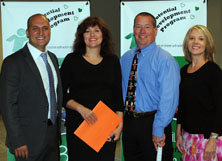 Sen. Joe Schiavoni; Lisa Fryda, parent; Paul Garchar, Exec Dir Potential Development; and Sue Stricklin, Board member
Potential Development Program officially unveiled their plans to open a high school in the Mahoning Valley dedicated specifically to teens with Autism at a pre-construction preview on Wed., July 31. The new Potential Development High School for Autism is expected to open this fall as 1 of only 3 high schools of its kind in the State of Ohio.
"Only 56% of students with Autism Spectrum Disorder graduate high school," explained Paul Garchar, executive director at Potential Development Program. "With a rise in the number of school-age children being diagnosed with some form of Autism, these students need our help to increase their graduation rate."
Until now, local families of high school age students with Autism have often been faced with the difficult decision of sending their children to public schools, sending them to special education schools lacking the Autism education principles or home schooling them. At the Potential Development High School for Autism, students will now have the opportunity to graduate, receive their diploma and develop essential skills to lead a more independent life.
The new 30,000-square-feet campus is located at 2405 Market Street (former Anthem building) to allow easy access for families in surrounding areas. It will accommodate students in grades 9-12 and incorporate features centered on creating an optimal learning environment for children with Autism that include: 8-9 large classrooms equipped with SMART Boards and iPads; Model apartment to teach life skills; Fine arts learning center; State-of-the art science lab; Group room for multi-class learning; Occupational and speech therapy rooms; State-of-the-art sensory rooms; Cafeteria and an enclosed outdoor recreational area.
To learn more about how you can help create brighter futures for students with Autism in our community visit CreateBrighterFutures.org.