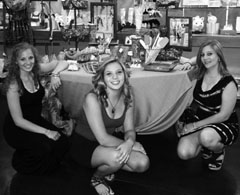 Alyssa, Alise and Alexis Rafoth
An Open House Celebration for "A's Attic", a new trendy section of Adamas Jewelry and Gifts was held this past Saturday, to preview this unique mini boutique. The name "A's Attic" represents the first initials of the Rafoth sisters. Alise Rafoth, with the support of her sisters, Alexis and Alyssa came up with this concept that would provide gifts for teens, babies and the latest trends.
"It is very difficult to find trendy and cool gift ideas that teens would love." said Alise Rafoth, who will be a junior at Canfield High School. Buyers for local stores may not be young enough to relate to middle school and high school aged customers and "I wanted to focus on younger customers and felt it would be a great addition for Adamas," she added.
Alise discussed the idea with her parents, John and Monica Rafoth, desiring this to be a good business decision that would promote new customers to shop at Adamas. They then presented the concept to their grandparents, Judy and Jim Rafoth.
Alise has requested that proceeds in part be donated to an Anti-Bullying Effort and to be kept local. Alise, who was bullied herself, wants victims to know that there is help available. "It is much easier to have your peers tell you what to do, what to say, and what to wear, however at some point you need to realize you are not being yourself. For me, as I was being bullied I quickly forgot how to think without others telling me and I lost sight of what truly mattered. I let the feelings and opinions of others guide my life and lost sight of my own true feelings. My counselor Dr. Cathy Hammond helped me to realize that I have to be strong because you have to remember you are the only one who will always be there for yourself." Alise hopes that by giving public attention to this cause, parents will pay closer attention and do whatever they can, to make sure their child, is not bullying others or is not a victim of bullying.
For more information about Adamas Jewelry and Gifts, 8391 Market St., Boardman, visit www.adamas.com or call 330-758-4787.