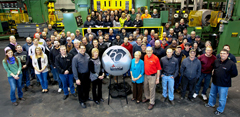 Team Compco announces 60 years in business
Columbiana, OH: Compco Industries, a family owned and operated business, currently in their third generation of ownership, has achieved a milestone of celebrating 60 years earning a respected reputation as a premier supplier, delivering high quality American made products to a variety of industries nationwide including: agriculture, air, cryogenics, gas and oil, HVACR, lawn and garden, pump and vacuum, pressure vessel, propane, sporting goods, transportation and water storage.
Formed in 1954 by Clarence Smith Sr. and Martin Poschner, Compco started as a manufacturer in Youngstown, OH, producing metal pipe hangers for Commercial Piping Co. Compco, operated by Mr. Smith's son, Clarence Smith Jr., realized they had a unique ability to provide quality metal products to meet their customer's specific needs and expanded its product line. Compco soon became a leading producer of tank heads, used in the pressure vessel, water storage, propane, cryogenics and air receiver industries.
The tank head production outgrew the Youngstown facility, and in 1981, Compco enlarged its operation to include a plant in East Palestine, OH. With the rapid escalation of steel prices in the early 2000's, Compco restructured their business plan, under the third generation leadership of Clarence Smith Jr's son, Greg Smith. Keeping their main focus on their commitment to excellence in serving the customer with quality metal products and superior service, Compco consolidated its operations under one roof, moving into a 238,000 square foot facility located in Columbiana, OH.
As Compco Industries celebrates its 60th year, Compco continues to increase its production quality, add state of the art automation, produce new products and invest in new equipment, to meet their customer specific demands. Compco has grown to be one of the nation's major suppliers of high quality ASME, DOT, and Non-code tank heads, with capabilities ranging from 4" to 120" in diameter, in a variety of thicknesses, available in carbon steel, stainless steel and aluminum. Compco Industries also produces a wide range of metal stampings, ASME Elliptical Manways, and offers in-house cut-to-length capabilities.
The Smith family's legacy has been built upon respect, consistency, and a tradition of excellence. The Smith family believes that Compco's greatest asset has always been its team members. "Team Compco is comprised of men and women, many third and fourth generation employees, who share similar core values and are united in proudly serving our customers and producing quality products," states Greg Smith, of Boardman, Compco's Chairman of the Board. "Compco Industries remains focused on the success of the customer. By always putting our customers first, we take pride in finding innovative solutions specifically tailored to each of their individual needs."
Team Compco is built on one foundation, that there is only one boss, and whether a person shines shoes for a living or heads up the largest corporation in the world, the boss remains the same. It's you, The Customer. For more information visit Compco Industries at www.compcoind.com.