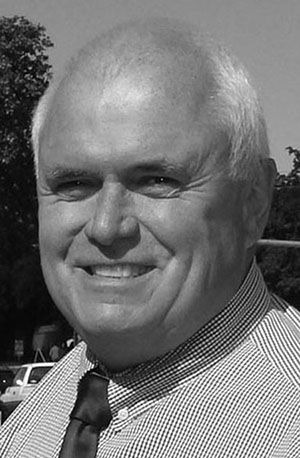 Terry O'Halloran
Coach Terry O'Halloran, longtime boys and girls swim coach at Boardman High School has been voted by his coaching peers as the 2014 Federal League Coach of the Year in girls swimming. He has been the head coach of both programs at Boardman for 29 years and during that time has compiled an impressive resume.
O'Halloran has produced four individual state champions, 15 All-Americans, 55 Academic All-Americans, and 76 Ohio state swimming qualifiers, while compiling an 80 per cent win dual meet record, captured one Federal League Team title, and three Northeast Aquatic Conference team titles.
The National Interscholastic Swim Coaches Association gives out team academic awards and the Spartan girls have earned five silver awards with a 3.5 Team GPA's and one bronze 3.3 Team GPA. The Boardman boys have earned 5 bronze 3.3 Team GPA awards.
Coach O'Halloran was named the recipient of the OHSAA Sportsmanship, Ethics, and Integrity Award in the 2005-06 school year and was the Northeast Aquatic Conference Coach of the Year for three years from 2010-2013.
He has spent 40 years as the Boardman Tennis and Swim Club swimming coach (1974-2013).
From 1971-1973, he spent three years as an age group swimming coach at Village Manor Swim Club in Pittsburgh, and from 1968-1970, he spent three years as the age group swim coach at New Castle Country Club.
Coach O'Halloran taught in the Boardman School system for 38 years beginning in 1973 where he spent five years at Stadium Drive Elementary School teaching science. In 1979 he taught fourth grade at Stadium Drive, and remained in that post for next 33 years, until he retired from teaching.
He received his Bachelor of Science degree from Westminster and his Masters Degree from Youngstown State University.
"As a fellow coach, I have always highly admired and respected the program Terry has produced at Boardman. The tapering program he uses for his athletes to peak at the right time is very scientific and it's obvious he has tremendous knowledge of his sport.
"Coach O'Halloran and his coaching staff dedicate many hours all year long to produce the outstanding program Boardman has had in swimming since it's beginning under his guidance," Boardman Local Schools Athletic Director Denise Gorski said.