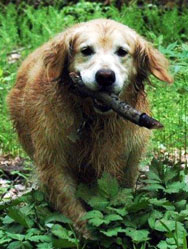 Gretta, Her Tails a 'waggin
Greetings! I noticed lots of smiles over the past weekend on the faces of my hometown friends! So glad you finally received some warmer temps and sunshine! I see the trees are beginning to get their leaves, daffodils are pushing through the soil to display their beauty, grass is becoming a vivid green....Spring is such a beautiful time of the year. I remember after a long cold winter, going outdoors and feeling the warmer sun rays against my fur and seeing the birth of Spring, ooh, I'd shake my head and body with renewed energy and joy!
Today I am prancing through the meadow grass, feeling the same energy and joy! Easter is here! Whether you are inspired by the sentiments of Easter and Passover or simply by the light-hearted song of a bird, do take a moment to meditate on the processes by which you will renew.
Wow, I have wondered into a new area of this heavenly place. There are lovely light blue colored flowers scattered all around, blowing slightly in the peaceful breeze amongst the high meadow grass. In the distance I notice a boxer coming my way, a new face. When we meet, he tells me his name is Tank. We bark awhile, exchanging our life stories. He lived in a town right next to me, "what a small heaven it is", I howl! He asked if I knew the way to the Rainbow Bridge as he heard a friend of his was arriving and wanted to be sure to be there to greet him!
I said I'd gladly show him the way, as I needed to go there too! As we walked we continued to bark about the wonderful loving times our masters had given us and how blessed our earthly lives had been. We got to barking about Tank's friend that would soon be arriving. Tank said his name is Ziti. "Now he is a little Yorkie-Maltice, small compared to me, but look out, he might be mighty small, but he is feisty and fearless" Tank barked with excitement! "He loved playing with golf balls. They made the most annoying noise, but he knew that noise would make his masters play with him."
I barked in, "yes us dogs all knew how to maneuver our masters to play with us. Oh how we'd have them down on the floor with us, or giving them a sad look which would get us on the bed, or on the couch, or even a biscuit." Tank added, "you know Ziti gets the biscuit award, as he would have his masters snuggling up, sharing popcorn and M&M's with him every night." We both howled in unison.
We reached the hill overlooking the Rainbow Bridge and saw a great crowd was gathering. Once down the hill, I introduced Tank to all my heavenly pals. We were all barking, getting to know Tank and hearing about Ziti, when we saw Sady the guardian dog of the bridge, begin to walk to the front of the bridge. We all became silent as we noticed a small dog appear. Tank whimpered, "that's Ziti, he's arrived!"
Sady barked softly, welcoming Ziti to his new heavenly home. Ziti turned away from Sady and pointed his nose downward.... he barked to his masters, "I will always love you and miss you. Thank you for giving me a home filled with happiness, love and kindness. I know there were times I was a bit feisty, but when you are the smallest, you have to let others know you can stand your ground. It is amazing, and you'll be comforted to know that I don't feel pain anymore! Be sure to pass me some popcorn and M&M's, I'll be watching!"
As Ziti turned, he and Sady slowly crossed the bridge, walking side by side. Ziti suddenly looked up, noticing Tank standing with all the other heavenly dogs and cats. Ziti turned, glancing back letting out a yelp, "Tank is here", then he began to run and nuzzled up to Tank. We all turned and ran up the hill, Ziti was home, and our tails were a waggin'!
In memory of:
Ziti 'Little Mac' Pastini Petrillo & his pal Tank
Gretta, a Golden Retriever, spent almost 15 years at The Boardman News. She greeted all who entered with a wag of her tail! She died in November of 2012.
Send your animal tributes/stories to: The Boardman News, 8302 Southern Blvd., S2A, Boardman, OH 44512. Email: gwen@boardmannews.net