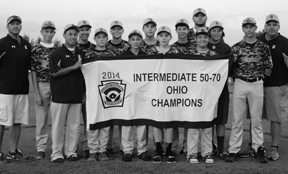 STATE CHAMPIONS
The Boardman Community Baseball's 13-year-old all-star team swept into regional play in Kalamazoo, Mich., claiming the Ohio state title with a 7-0 win over Maumee on Tuesday in Toledo.
Boardman won three, straight games to claim the state crown, outscoring their foes, 41-3, over that span.
In the title match-up, Boardman opened the first inning with a pair of runners on base on singles off the bats of Travis Harvey and Cam Kreps. But Maumee came up with a double play to end the threat.
In the third, Boardman stranded two more runners, as the Maumee defense got out of another jam on ground outs.
Boardman assumed a 2-0 lead in the fourth frame, keyed by a Dillon Gurski triple to right field.
In the fifth frame, Boardman notched another run, then added another pair in the sixth frame. Key hits over that span came from Alex Cardona and a Mike O'Horo triple.
Boardman added a pair of insurance runs in the seventh frame, as Devin Whitaker and Ben Burkey crossed the plate.
Boardman opened the game with Harvey on the mound. He got the win with relief help from Cardona, who fanned five of the final six batters in the game.
Harvey also had 5 Ks in the contest.
Boardman earned its title berth with a 21-1 blast over Lebanon on Monday.
Gurski, Fonderlin and Cardona worked on the mound for the winners, while big bats came from Harvey, Kreps, O'Horo and Fonderlin, who went 3 for 3. O'Horo belted a pair of four-baggers and a double, while Harvey had a three-bagger.
Boardman opened the state tournament with a 12-2 victory over Maumee.
Harvey, Kreps and Fetsko pitched in the game, and key hits came off the bats of Harvey, O'Horo, Fonderlin and Gurski.
Boardman is managed by Brian Fonderlin and serving as coaches are Troy Parks and Rob Eicher.
Regional play runs from July 19-26 with the winner advancing to World Series play in Livermore, Calif.
Pictured: Pictured are members of Boardman Community Baseball's Intermediate League all-star team. From left, Brian Fonderlin, mgr.; Nick Yallech, Alex Cardona, Travis Harvey, Ben Burkey, Jake Fonderlin, Dillon Gurski, Mike Morris, Shay Eicher, Mike Fetsko, Troy Parks, coach; Devin Whitaker, Cam Kreps, Mike O'Horo, Rob Eicher, coach.