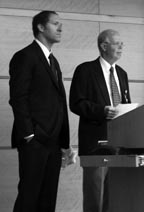 Dr. Justin Mistovich, (L) & Bob Campbell (R)
Dr. Justin Mistovich, a 1999 graduate of Boardman High School, recently returned to his hometown, to open his pediatric orthopaedic practice, and join the team at Youngstown Orthopaedic Associates (YOA), 1499 Boardman-Canfield Rd., in Boardman.
YOA is now expanding their services to include treatment of children with spine conditions. Dr. Mistovich specializes in the treatment of pediatric fractures, sports injuries, and spinal conditions, including scoliosis.
Dr. Mistovich graduated from Duquesne University in Pittsburgh, Honors College, cum laude, with a Bachelor of Arts in Spanish and a Minor in Biology, in 2003. He graduated with his Doctor of Medicine from Wright State University School of Medicine in Dayton in 2008.
In 2008, Dr. Mistovich also served as a health policy intern for Congressman Tom Prince, working with Congressional staff to develop policy documents on healthcare legislation, attending congressional healthcare hearings and summarizing policy points and ideas.
His orthopaedic surgical residency was completed in June 2013 from Allegheny General Hospital in Pittsburgh. Dr. Mistovich completed his clinical fellowship in pediatric orthopaedic surgery in July of 2014, under a world-renowned surgical team, at the Children's Hospital of Philadelphia.
Dr. Mistovich joined with Bob Campbell in August of 2014, to co-direct a course at The Children's Hospital of Philadelphia for the FDA, discussing new innovations and advances in the care for children with spinal deformities and how to care for them. Bob Campbell invented a device called the VEPTR, which can treat very young children with spine and chest wall deformities. Dr. Mistovich stated, "His device saves the lives of kids with these deformities who almost would have died from their disease before."
After the earthquake in Haiti, Dr. Mistovich volunteered to serve on a medical disaster relief team in 2010 in Port-au-Prince, Haiti. He was in charge of an orthopaedic trauma operating room, in a tent hospital, with an Eastern European general surgeon.
Dr. Mistovich has also authored manuscripts; book chapters, including The Spine section for the upcoming 20th edition of the Nelson's Textbook of Pediatrics; surgical technique videos, and lectures on pediatric orthopaedic surgery.
Dr. Mistovich and his wife Keili have a daughter named Madeleine. He is the son of Joyce and Ron Mistovich of Boardman.