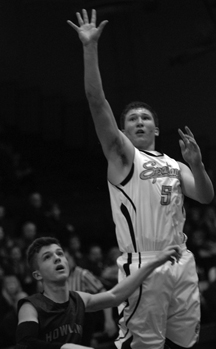 photo/Howard Reese
The Boardman Spartans opened the 2015 portion of their hoop campaign in winning style, downing Howland, 67-55, to improve to 3-5 on the season.
"We played our most complete game of the season. We did a nice job of executing the offense by moving the ball and not settling for quick jump shots, while also doing a good job of pressuring on defense and rebounding," Spartan Head Coach Pat Birch said of the victory.
The Spartans had a balanced attack led by Brian Fryda with 11 points, while Marcus Smith, Sebastian Heinonen and Gannon Murray notched 10 points each, Alex Duda added 9 markers, and Justin Metzel and Holden Lipke chipped-in with 7 and 6 points respectively.
The Spartans went 10 of 15 from the charity stripe, while Howland was 15 of 22 from the line.
"I've been very happy with our kids' willingness to be coached and get better, and as a result the quality of our basketball is improving," Birch said.
Rounding out the scoring for the Spartans against Howland were Jon Dana with 3 points and John Ryan with 2 points.
The Spartans have the toughest stretch of their schedule during the next two weeks as they face Louisville team tonight, followed by Poland at home on Fri., Jan. 9, then Warren G. Harding on Tues., Jan. 13 and Fitch on Fri., Jan. 16.
On Tuesday night, the Spartans bested a 7-1 Louisville team, 49-45, led by the Boardman -youth corps,' as juniors Gannon Murray meshed the nets for 19 points and sophomore J.R. Ryan added 18 more. Freshman Holden Lipke added 8 points, including a pair of big, three-pointers in the second half. Fryda and Heinonen chipped-in with 2 points each.
Brody Hahn and Blake Hoover paced Louisville with 10 points each.
Difference in the game came at the foul line where the Spartans held an 8-4 margin.
Pat Birch's Spartan cagers get back onto the hardwoods on Friday night when they face Poland Seminary in a home game. Next Tuesday, Boardman travels to Warren G. Harding, before returning home Fri., Jan. 16 to face Austintown.
PICTURED: BOARDMAN'S ALEX DUDA, 5, TOWERS OVER HOWLAND'S Nate Leventis, at left, during action between the two schools last weekend. The Spartans posted a 67-55 victory.