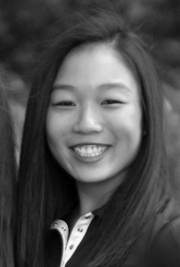 Jacinta Pikunas
The Boardman Lady Spartans golf team continued their winning ways last week with a 146-247 victory over Struthers in a match played on the front nine (North Course) at Mill Creek GC.
Junior Jacinta Pikunas fired a five-under-par total of 31 to pace Boardman, while teammate Jenna Vivo finished at one-over-par 37.
Britney Jonda and Tori Augustine rounded out the scoring for the Lady Spartans with 44 and 45 strokes respectively.
Tara Wingold led Struthers with a 55.
Pikunas posted a nine-hole total of 33 in Boardman's 162-172 victory over Canfield last week, also played at Mill Creek GC.
Vivo finished at 42, while Augustine had a 43 and Jonda finished at 44.
Hannah Keffler paced Canfield with a 40, while Gilliam Cerimele had a 42, Jaci Carpenter finished as 44 and Carmel Cerimele had a 46.
The Lady Spartan golfers dropped their first match of the season in a scorecard playoff with Lakeview, after both teams ended nine holes on the front nine at Tamer win at 160-160. Pikunas earned medalist honors at two-under-par 34, while Vivo posted a 39, and Jonda and Augustine rounded out the scoring at 43-44 respectively. Horn's 42 total in the third sport for Lakeview was the difference in the match.
In another match-up with Canfield, Boardman bested the Lady Cards, 155-160, on the front nine at Mill Creek. Pikunas and Vivo set the pace at 36 and 37, while Augustine had a 40 and Jonda finished at 42. Keffler's 38 paced Canfield.
Boardman now stands at 8-1 on the season (6-1 in the AAC).
PICTURED: BOARDMAN HIGH SCHOOL junior Jacinta Pikunas, a two-time state qualifier, fired a red-hot nine hole round of 31, five under par, to pace the Lady Spartans to a win over Struthers on the front nine at Mil Creek GC last week.