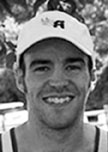 Mike Mannozzi
Boardman native Mike Mannozzi captured his second United States Track and Field 30K race-walking championship in October at Rockland Valley State Park, New York with his personal-best 2:31:13 clocking over the 18.6 miles.
Mannozzi both regained the 30K national title he held in 2013 and clinched the overall USATF Racewalking Grand Prix crown. It was the 11th national title of his career.
Mannozzi took the lead after 23km and never relinquished it, though he was challenged for the overall win. He credits the field of international athletes including multiple Olympians from other nations, particularly from Central and South America who were also racing various distances at the same event.
Mannozzi set his first personal best performance of 2015 at the USA Track and Field's 1 Hour event on Aug. 2nd, in Gloucester, Mass., and followed that showing winning the USA 40k championship on Sept. 12, in Ocean Township, New Jersey.
Next up for the 'Italian Stallion' of USA Track and Field, as he is often called is the USATF 50k national championships this weekend in Santee, Calif.