Sunday October 1, 2023
Boardman Weather


% humidity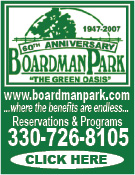 Boardman Kiwanis Donates Carbon Dioxide Detectors
January 14, 2016 Edition

The Boardman Kiwanis Club has donated 25 carbon dioxide detectors to the Boardman Fire Department. "In speaking with the Fire Chief, we uncovered a need for carbon monoxide detectors for Boardman residents. The Boardman Kiwanis Club is thankful for the Fire Department's everyday efforts to protect the citizens and property of Boardman, and grateful to participate in prevention efforts with the donation of these detectors," said Roy Wright, Kiwanis Club President. Chartered in 1947, the Kiwanis Club is Boardman's longest-serving service club. Pictured, from left Mark Luke, Boardman Kiwanis; Vickie Davis, Boardman Fire Department; Fire Chief Mark Pitzer; Earl Coffin, Boardman Kiwanis; Roy Wright, Kiwanis Club President.