Monday October 2, 2023
Boardman Weather


% humidity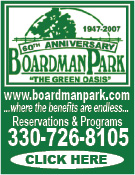 LEGAL NOTICE
May 26, 2016 Edition

PUBLIC NOTICE
EMPLOYMENT OPPORTUNITY
Custodian
Boardman Township
Boardman Township, Mahoning County Ohio 8299 Market St, Boardman Ohio 44512 is now accepting applications for two Part-Time Custodians. For a list of qualifications and position description please visit www.Boardmantownship.com under Administration – HR Related. This is AFSCME union positon pay in starts at 9.36hr. Applications and position description are also available at Township Government Center. Please mail any applications to the address listed above to the Attn: Jason Loree Township Administrator. To email an application please send them to jloree@boardmantwp.com Deadline for applications are 3:00 pm Friday June 10th 2016. Any questions please call Jason Loree at 330-726-4144. Ext. 61817. Boardman Township is an Equal Opportunity Employer.