Monday February 6, 2023
Boardman Weather


% humidity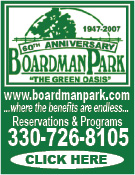 Brendon Lucas Sets School Record In 400, Qualifies For State Meet
June 2, 2016 Edition

AUSTINTOWN---Boardman High School senior Brendon Lucas will compete at the 2016 OHSAA State Championship this weekend at Jesse Owens Stadium on the campus of The Ohio State University in the 400 meter dash.
Lucas led the Spartans to a 9th place finish in a field of 44 schools at the OHSAA Regional Championship last week. Regional champ was Canton GlenOak.
Lucas earned his first trip to the state meet in the 400 with a personal best and new BHS record time of 48.46 seconds.
"I am absolutely thrilled for Brendon," said Boardman Head Coach John Phillips. "He has been asked to do a lot for our team this year and has battled back from a season ending injury a year ago. He is proof that working hard and following a training plan pays off."
Lucas also just missed qualifying for state meet in the 200, placing fifth overall in a personal best time of 22.16 seconds and he was sixth overall in the 100 with a time of 11.11 seconds.
Boardman junior George Wallace also just missed qualifying to Columbus with a fifth place finish in the discus with a throw of 156', and junior Chris Butler was sixth overall in the 1600 in a career best time of 4:23.
Lucas will run in the Ohio semifinals Friday afternoon, if he is in the top 9 of 16 he will run Saturday evening for the state championship.
Lucas is currently seeded fifth in the event.