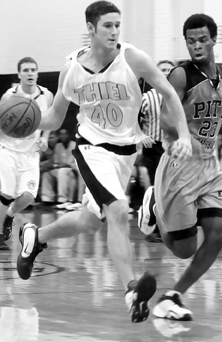 A. H. Davis
GREENVILLE, PA.---Thiel College Athletics Reunion Weekend concluded last Saturday with the 36th Athletic Hall of Fame induction ceremony that took place at the Lutheran Heritage Room in the Howard Miller Student Center.
Among seven inductees was Boardman native A.H. Davis, son of Mr. and Mrs. Fred Davis, of Spartan Dr.
Davis, a 2003 graduate of Thiel, played basketball for the Tomcats
A Boardman High School graduate, Davis is Thiel's career leader in points (1,683). He was a four-time All-PAC selection, earning three first team nods (2001-03) and a second team honor as a freshman in 2000.
A member of the PAC 60th anniversary team, Davis helped lead the Tomcats to the PAC title in 2000.
In addition to being the program's leader in points, Davis is also the career leader in field goals (684). He ranks third in program history in free-throws (295), fifth in blocks (79) and eighth in steals (128).
Davis is the second Boardman native to be inducted into the Thiel Hall of Fame.
John Gibson was a four-time, first team All-PAC honoree and a four-time All-Lutheran team selection during his football playing days at Thiel. By the time Gibson graduated, he had held career marks in receptions (150), receiving yards (2,054), points (208) and touchdown receptions (27). He capped his career by earning Little All-American Honorable Mention status in 1970.
Upon graduation, Gibson signed a free agent deal with the Cincinnati Bengals in 1971. He is one of just two players in Thiel football history to have their number retired. He was inducted into the Thiel College Hall of Fame in 1982.
Pictured: A.H. DAVIS, 40, leading scorer in Thiel College basketball history, was inducted into the school's Hall of Fame during ceremonies last Saturday.