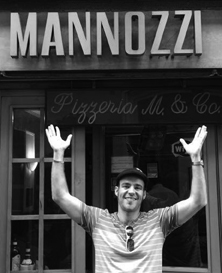 Michael Mannozzi
Boardman native Michael Mannozzi, five-time U.S.A. Track and Field team member, will get his last chance to qualify for the 2016 World Olympic Games this week when the 20K Trials begin in Salem, Ore. on Thursday.
Mannozzi, who grew-up on Erskine Ave., is seeded eighth in a 15-man field in the trials that open at the steps to the Oregon state capitol where race walkers will complete 19 one-kilometer loops.
Mannozzi, 30, will be shooting for the Olympic qualifying standard of 1 hour, 24 minutes.
To date his best time in the 20K is 1:31.11, about eight minutes behind the standard.
Besides a spot on the Olympic team, athletes can also win prize money for top performances. First place gets $10,000 and the money is awarded down to $1,000 for seventh place.
Favorite in the race is U.S Olympic 50K qualifier John Nunn. The field also incudes U.S. collegiate champ Anthony Peters whose best time to date is 1:31.19. He is seeded fifth in the race.
For those who make the team, it's a fairly fast turnaround until they leave for Brazil. The opening ceremonies are on Aug. 5. Track events begin Aug. 12.
"I know I'm a long shot, but anything can happen," Mannozzi said on Tuesday.
Mannozzi won the College NAIA title for the 3K distance in 2010, after being in the sport for only a year.
On Apr. 10, 2011, Mannozzi landed the qualifying time for the 2012 USA Olympic 50K trials with his performance at the Ohio 50K Race Walk Championship. His qualification for the championship also made him the youngest entrant at the 2012 trials.