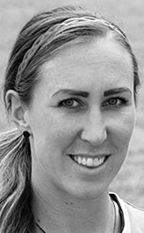 Jen Feret
Jennifer Feret, daughter of Jim and Francine Feret, of Midwood Circle, a member of the Mercyhurst Lakers softball teams from 2004-2007, has been inducted into the school's Hall of Fame. The Boardman-native is the most decorated pitcher in Mercyhurst softball history.
She is now a naturalized citizen of New Zealand, where she has continued her softball career as a star pitcher with the Western Magpies, the country's nation, interclub champions.
Feret is the Mercyhurst program's all-time leader in innings pitched, strikeouts, complete games and shutouts. She also held opposing hitters to a lower batting average than any other hurler in Laker history. Feret ranks second all-time in wins and third in earned-run average.
Feret was no slouch with the bat at Mercyhurst where she ranks second all-time in home runs, fourth in runs batted in and fourth in total bases.
Feret holds several season records. As a pitcher, she owns the record for strikeouts, shutouts and opponents' batting average. As a hitter, she holds Mercyhurst's single-season record for home runs (16).
While in college, Feret was recognized on the Great Lakes Intercollegiate Athletic Conference All-Conference team in each of our four seasons: once on the first team, twice on the second team and once as an honorable mention.
After graduating from Mercyhurst, Feret spent two summers in Switzerland as a member of the Therwil Flyers that won the Swiss national title. The Flyers advanced to the European Cup, where Feret was voted tournament MVP.
She then spent a summer in Germany, and as a member of the German national title team, she again gained Europena Cup MVP laurels.
She then found a home in New Zealand.
In March, the Western Magpies won the national title and Feret gained MVP honors again. She played this summer at the World Cup for New Zealand, then lost in quarterfinal play, 8-2, to the Netherlands.
"I've won national championships in Switzerland, Germany, and New Zealand but nothing beats putting on the New Zealand uniform for the first time and singing the national anthem with my teammates before our Test Series against the Australians in Perth 2011," Feret says of her softball career.
Earlier this year, she led the Aukland's Western Magpies to a national title, tossing a pair of no-hitters against the Hutt Valley Dodgers.
"Feret was too good for the Dodgers hitters in the final, exhibiting masterly control of her dropball and change-up, which had many Hutt Valley hitters swinging at fresh air," A New Zealand scribe reported on the national championship game.
"As a small town Boardman kid, I never thought my dreams of playing international softball at the highest level would ever come true! Moreover, I never foresaw the opportunity to be a part of something so much bigger than myself!
"Softball has taken me on a whirlwind journey across the world where I have made lifelong friends and memories. I've had the privilege to help grow the game and the passion for softball all around the world!
"Because of softball I have found a home, a husband, and a life for myself here in New Zealand. I am ever so grateful to be taken in by New Zealand and given the opportunity to be apart of its national representative softball team, the New Zealand White Sox," Feret says.
As a sophomore at Boardman High School, Feret was a member of the Lady Spartans 2001 state championship softball team under Head Coach Bill Amero.
Her name is a glaring omission from the BHS athletic Hall of Fame.