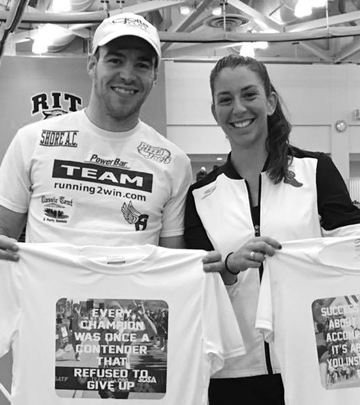 Michael Mannozzi, Miranda Melville
Michael Mannozzi, a Boardman native, closed out 2016 winning the 5,000 meter Indoor National Racewalk Championship and the 10,000 meters simultaneously at the Upstate Holiday Classic, setting his third personal best time of the year. The event was held within the University of Rochester's Gordon Field House.
Mannozzi and training partner, Jon Hallman, finished first and second while A.J. Gruttadauro, of Brockport, NY finished third for the men. All three race for the Shore Athletic Club of New Jersey and they claimed the team title.
During the awards ceremony, both Mannozzi and Rio Olympian, Miranda Melville, were presented with custom shirts recognizing their performances as champions the past six and five years respectively.
Mannozzi has won four of his last five races. Two of them were national championships. He also won The Weinacker Cup 10k race, a Michigan vs. Ontario event held last summer in Port Huron, Mich.
On Sept. 11, he won the New Albany, Oh. Walking Classic half-marathon, dubbed 'America's Premier Walking Classic,' and now co-owns the all-time number of wins for men.
Mannozzi considers taking second at the USA 30k national championships on Nov. 6 as the turning point for him in the second half of 2016.
"Having Olympians from Ecuador and prospective US Olympian, Nick Christie, in the same event was a boost.
Working with Maria Michta, a two-time Olympian, and Katie Burnett, another Olympic hopeful, helped pull me to a higher level," Mannozzi said. He improved a whopping 3 minutes and 44 seconds from the same event in 2015.
Mannozzi recently moved from Toronto, Ontario, Canada to Liberty, South Carolina (home of the NCAA national champion Clemson football team) where he is training with USA teammate, Jon Hallman. The two have represented the USA internationally eight times.
When asked, Mannozzi stated that, "The conditions and timing were right to make the transition." He is working at Gotta Run Clemson, which he balances with his training for the 2020 Olympic Games.
Next on the agenda is the USA 50k national championships in San Diego, Calif, where Mannozzi will attempt to move his personal best closer to the Olympic standard.
"Training for the Olympics is a multi year process and I am working hard every day to make that happen," he said.
Contributions to help Mannozzi reach the Olympics can be made through his GoFundMe account at: gofundme.com/mannozzis-olympic-quest.
PICTURED: Michael Mannozzi, who grew up in Boardman, and 2016 Olympian Miranda Melville show off the shirts that were awarded for winning the 5,000 meter indoor Racewalking National Championship at the Upstate Holiday Classic in Rochester, NY in December.