Monday October 2, 2023
Boardman Weather


% humidity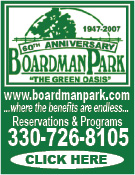 LEGAL NOTICE
February 9, 2017 Edition

LEGAL NOTICE
Please be advised that the 2016 Annual Financial Report of Boardman Township is complete and has been sent to the Auditor of Stte. These Statements can be picked up at the Township Government center.
William D. Leicht
Boardman Township
Fiscal Officer.