Monday February 6, 2023
Boardman Weather


% humidity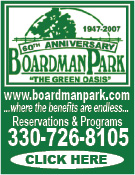 Boardman High School Quarterback Mike O'Horo
September 7, 2017 Edition

 BOARDMAN HIGH SCHOOL QUARTERBACK MIKE O'HORO, 8, set a school record, connecting on his first ten passes of the game last week in a 35-17 victory over Howland High School. O'Horo went 17 of 23 in the first half of play, and finished 19 of 27, good for 238 yards and three touchdowns before 4,000 fans at Spartan Stadium. He also tallied a TD on the ground. Boardman travels to Massillon Jackson this week to take on the 2-0 Polar Bears, a 38-20 winner over Mayfield last week. Last year Jackson beat the Spartans, 21-14.