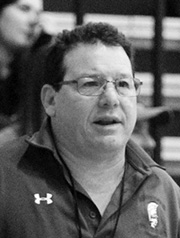 Dom Mancini
The Boardman High School Spartan wrestling team defeated Lakeside on Monday to give Head Coach Dom Mancini his 100th Dual Match victory.
"I think it's a milestone of longevity, that's probably what I'm most proud of, that I've stayed with the program this long," Mancni said.
Sam DeJoseph started the dual match for the Spartans in the 106# bout and was pinned by Ethan Wannett. The 113# bout was a double forfeit. Spartan Derek Slipkovich jumped out to a 7-2 lead after the first period in his 120# bout against Darian Cowles. In the second period Slip scored a takedown before decking Cowles with a nearside cradle in 3:08. This victory tied the score at 6-6.
Jason Robinson had a forfeit victory in his 126# bout. Anthony 'Bagz' Baglama had a scoreless first period in his 132# bout against Luis Guevara and took control in the second period with two takedown before sticking him in 3:59. Boardman's lead was now 18-6.
Nate Thompson scored a takedown in his 138# bout before decking Adrianna Hutson. Devon Blazek followed up with a takedown of Brendan Chess before sticking him in 1:47. The Spartan lead was now 30-6.
John Fleet and Jake Powell had forfeit victories in their 152# and 160# bouts increasing Boardman's lead to 42-6.
In the 170# bout, Kareem Hamden scored two takedowns before decking Kevin Pettit in 1:02.
"Kareem looked really good. He's starting to pick up more moves and because he's so aggressive to begin with, he's just going to keep getting better and better," Mancini said.
Boardman's state-ranked Mike O'Horo had a forfeit victory in the 182# bout. The Spartans now led 54-6.
Boardman forfeited the 195# bout. Nick Caraballo had a forfeit victory in the 220# bout and Boardman forfeited the heavyweight bout to gain the 60-18 victory.
Mancini said, "I think our guys are clicking since the EOWL Tournament I'm happy where we are at."