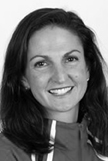 Laurie Gomez-Henes
BY GREG GULAS
contributor
The 51st Curbstone Coaches Hall of Fame induction ceremonies will take place on Sun., May 6 at Mr. Anthony's Banquet Center, 7440 South Ave., with 12 new members set for enshrinement.
Former NFL and YSU placekicker Paul McFadden is set to serve as guest speaker.
The 2018 class includes Don Andres (basketball, coach), Arthur Berquist (bowling), Dr. Raymond Duffett (contribution to sports), Jim Fox (track and field/cross country), Joseph J. "Blackie" Gennaro (posthumous, boxing), Laurie Gomez-Henes (track and field/cross country), Steve Jones (football), Michael Kernan (football), Todd Marian (golf), Ann Marie Martin (basketball), Ed Moore (special award) and sports editor Ed Puskas (sports media).
One of two track and field/cross country inductees in this year' class, Gomez-Henes, perhaps the top distance runner ever to come out of Boardman High School.
Born on April 16, 1970, she is a 1988 graduate of Boardman High School and a 1992 graduate of North Carolina State University.
She competed in both sports for the Spartans from 1985-88 and is a three-time state track and field champion, winning the 1600 meter run (4:54.9) in 1987 and both the 1600 meter (4:53.9) and 3200 meter (10:48.58) run in 1988.
In 1988, she set new state track and field records (since broken) in the 1600 meter run (4:48.59) and 1500 meter indoor race (4:37.0), also setting new school marks in the 1600 meter run (4:48.59) and 3200 meter run (10:28.80) that same season.
Her other accomplishments in 1988 include National High School Indoor 2-mile champion (1:22.82), was the No. 1 ranked High School Female Distance runner in the country in the 1600 meter run (4:48.59) and 3000 meter run (9:33.3), won the 1600 (4:50.78) Midwest Meet of Champions and was the Gatorade Ohio Track and Field "Athlete of the Year" as well as its Midwest Regional "Athlete of the Year."
In 1987, she was the National Junior champion in the 3000 meter run (9:53.0) and was invited to the Olympic Training Center in Colorado Springs, Colorado for one week to take part in a camp for the nation's top distance runners.
In both 1987 and again in 1988 (her junior and senior seasons), she was invited to compete in the Millrose Games in the 1500 meter run, held in Madison Square Garden and featuring the Top-10 female distance runners in the country.
In cross country, she was also a three-time state champion (1985, 18:46.2; 1986, 18:20 and 1987, 17:58), earning District and Regional cross country championships all three years.
In 1988, she was Mideast cross country champion and National Junior Olympic Intermediate champion (18:32), earning Harrier Magazine All-American laurels in both 1986 and 1987 and Scholastic Coach All-American honors in 1987 as well.
Her high school head coach, the legendary Denise Gorski, recalls that Gomez-Henes was "so good, I had to go back and learn a lot just to coach her."
Gomez-Henes is a 1988 inductee into the Boardman High School Hall of Fame, and in 2003, she and her husband Bob, were inducted into the Ohio Association of Track and Cross Country Officials Hall of Fame.
She accepted a full scholarship to North Carolina State University upon graduation and was an eight-time All-American in both cross country and track & field.
She was an all-Atlantic Coast Conference selection four straight years, capturing the ACC cross country title her senior year.
In cross country for the Wolfpack, she placed fourth overall at the NCAA Cross Country Championships as a senior, competing in the NCAA Outdoor Track Championships in the 5,000 meter race, also her senior season.
She finished third at the NCAA Indoor Track Championships and during her final two collegiate seasons, earned the H.C. Kennett Award, presented by the school to Wolfpack's "Outstanding Female Athlete."
She ran professionally for Adidas from 1993-99, finishing fifth at the USATF Nationals in the 10,000 meters in 1993 to earn a spot on the World University Games team.
Also in 1993, she was ranked No. 6 in the nation in the 10k race.
In 1995 she earned a spot on the USA National Team and competed at the World Championships in Sweden. Her best time was 15:31.4 in the 5,000 meters and 32:05.20 in the 10,000 meters.
In 1996, she finished fifth at the U.S. Olympic Trials in the 10,000 meter run, missing qualifying by two places. In that race. Gomez-Henes stayed in the top-three for much of the event, but decided to make a move to the top, and ran out of gas by the finish line.
She began her coaching career at her alma mater, N.C. State and from 1992-94, served as a graduate assistant coach.
From 1994-97, she was the Wolfpack's assistant women's cross country coach and from 1998-2005, served as associate head coach.
From 2006-17, she has served as head women's cross country coach, earning ACC "Coach of the Year" honors in both 2006 and again in 2016.
She was the NCAA Southeast Region "coach of the Year" on two separate occasions (2007 and 2016) and has produced 27 All-ACC performers, eight All-Americans and two ACC individual champions.
In 2016, she led the team to an historic season for the school as they won the ACC title, the NCAA Southeast Regional crown and earned its highest NCAA national ranking (fourth overall) since 2001.
She and her husband, Bob, are the parents of two daughters; Elly and Jordan, and reside in Morrisville, North Carolina.
Individual tickets are $60 each, a table of eight is $480 and each are available by calling Mariel Sallee at 330-519-6819.