Monday February 6, 2023
Boardman Weather


% humidity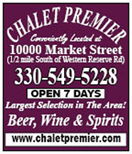 All Smiles!
May 17, 2018 Edition

Rick Sypert, Track & Field Coach

BOARDMAN LADY SPARTANS head track and field coach, Rick Sypert, is pumped after his 1600 meter relay team captured the final event of the All American Conference championships to give his team the meet title. Sypert's Lady Spartans have won the AAC Meet two years in a row.