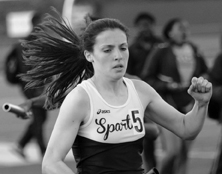 Raegan Burkey
Boardman High School freshman Raegan Burkey punched her ticket to Columbus for the OHSAA State Track and Field Championships in a time of 2:15.66, finishing fourth at last week's regional meet. Her time makes her the third fastest 800 runner in the class of 2021.
Lady Spartan senior, Casey Zaitzew, capped-off her impressive career at the regional meet with an 11th place finish in the 1600 (5:25.44) and a 10th place finish in the 3200 (11:55.52). Casey finishes her Lady Spartan career as one of the most decorated distance runners in school history. She will continue her running career at Youngstown State University next fall.
Boardman's 4x400 relay team of Burkey, Alayna Cuevas, Julia Schrembeck and MaKayla D'Eramo finished eighth at the regionals in a time of 4:02.62. This time was their fastest of the season.
Burkey will compete in the timed 800 final at Jessie Owens Stadium at The Ohio State University on June 2 at 6:05 p.m.
In the preliminaries at the regional meet, D'Eramo ran a 1:01.61 to finish 11th in the 400 run, and the 4x800 relay of Burkey, Cuevas, Zaitzew and Cassie Stitt ran a season best 9:36.55 to finish seventh.