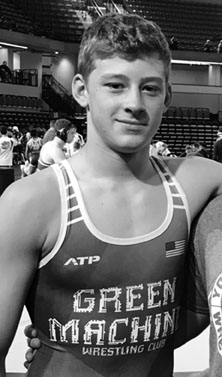 Sean O'Horo
Last school year, 14-year-old Sean O'Horo put up impressive numbers as a member of the Glenwood Jr. High School wrestling team, finishing the season with an overall record of 56-4, and gaining a second place finish in the state championships in the 132 lb. class.
The end of the school year has not been the end of O'Horo's wrestling season, as he has competed in several state and national events, twice gaining All-American laurels.
On Wednesday, he departed by bus for Fargo, North Dakota where he is competing as a member of the Ohio National Cadet Wrestling Team in the top junior wrestling event in America.
O'Horo is the younger brother of Boardman High School's starting grid quarterback, Mike O'Horo, who is also a wrestler and is top-five, state-ranked in the 182 lb. class.
Following the regular season, O'Horo competed in the Ohio AAU cadet freestyle championships as a member of the Green Machine and earned a second place finish, qualifying him for the Fargo Nationals. At the AAU meet, O'Horo posted a 6-1 log.
Over the Memorial Day weekend, O'Horo competed in a national meet in Virginia Beach as a member of a team coached by Tom Tomeo, former USA Olympic mat coach, and Caleb Kolb, a former Nebraska mat standout and son of Pittsburgh Steelers lineman John Kolb. At the Virginia Beach event, O'Horo went unbeaten, posting victories in eight matches.
Then, in late June, O'Horo was in Orlando, Fla. to compete in the Disney Nationals where he went on a terror, competing against a field of wrestlers as many as four years older than himself. But none were better, as O'Horo again posted an unbeaten mark, this time winning eleven straight matches and earning gold medal status and his second All-American laurels of the summer.
This week O'Horo and the Ohio National Team departed via bus from Ohio Northern University to Fargo Nationals in Fargo, North Dakota, a 17 hour bus trip.
"This will definitely be O'Horo's greatest test of the year due to the stiff competition of all state champions and runner-ups he will go head to head with all week," Coach Dom Mancini said.
Mancini is O'Horo's primary coach, however he also receives instruction from Frank Mancini, his junior high school coach; and Nick Mancini, All-American wrestler from Mount Union who has taken O'Horo take to an entirely different level.
Also helping to prep O'Horo are former Boardman mat standout John Dillon, Coach John Burd from Austintown Fitch and Tomeo, of Pennsylvania.
"I try to take something from each coach, as well as my brother, and make it my own," O'Horo said before departing for Fargo.