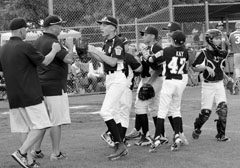 KEEP IT GOING
Boardman Community Baseball's 12 and under Little League all-star team put 30 runs on the scoreboard in two games, and yielded just three hits to its foes over that span to open state championship play in North Canton with wins over Galion and Ironton. The victories move Boardman into the winners bracket where they next face New Albany.
Playing on Sunday, Boardman opened state title play blasting Galion, 12-0, as starting pitcher Gavin Hyde allowed just two hits and sent a dozen batters back to the dugout via the K in 5-1/3 innings on the mound. He didn't walk a batter.
Jack Ericson paced Boardman's 12-hit offense, finishing with four hits, including a triple and double. Ryan Conti added a pair of hits and a pair of RBIs, while Tyler Kirlik, Evan Sweder and Matt Kay each had two RBIs.
Ericson relieved Hyde to, posting the final two outs of the game.
Boardman moved on to face Ironton on Tuesday and posted an unbelievable 18 runs in the first inning of play, in a game that was called by the mercy rule after just three innings. Boardman won, 18-0, and sent 28 batters to the plate in the mercy rule shortened contest. The first inning lasted 50 minutes, as Boardman put run after run on the scoreboard.
Anthony Triveri was on the mound as the starting pitcher, and he posted two strikeouts in 2-1/3 innings of work, while Ryan Conti worked the final two outs of the game.
Everyone for Boardman contributed in the rout over Ironton, as Ercison paced the potent offensive attack going 3 for 3 with 4 RBIs and a pair of runs scored, while Caleb Satterfield went 2 for 2 with a pair of RBIs and three runs scored. Evan Sweder notched a pair of stolen bases.
Here's the rundown on the rest of the Boardman offensive against Ironton:
 •Tyler Kirlik had a double and a pair of RBIs.
 •Cal Huston had a single and an RBI.
 •Gavin Hyde had a single and an RBI.
 •Dylan Barrett had a single and an RBI.
 •Marty Stachowicz scored a run.
 •Anthony Triveri had a hit, a pair of RBIs and scored a run.
 •Evan Sweder scored to runs.
 •Charlie Young had a hit and an RBI.
 •Zach Gasner had a hit and a pair of RBIs.
PICTURED: KEEP IT GOING: Boardman Community Baseball all-star coaches greet their players coming off the field in opening round play against Galion on Sunday. From left, Coach Jim Huston and Manager Ron Hyde, and Jack Ericson, Gavin Hyde, May Kay, Dylan Barrett and Cal Huston.