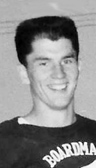 Butch Anderson
BY JOHN A. DARNELL JR.
associate editor
In 1950, the Boardman Spartans football team went onto the field as a member of Ohio elite, big school 'Class A' teams, abandoning the old Tri County Conference in favor of the rugged Steel Valley Conference that featured such teams as the Campbell Memorial Red Devils, Girard Indians, Hubbard Eagles, Struthers Wildcats and Austintown Fitch Falcons.
It was six years later that a Spartan grid team finally posted a winning record in the 'A' division, in 1956, when Boardman went 7-2 under second year Head Coach Jerry Thorpe.
A year before, Boardman went 3-5-1 in Thorpe's first year at the helm and in that season, arguably one of the best running backs in Spartan grid history began to emerge in junior Ronald 'Butch' Anderson.
Butch didn't play on the gridiron during his sophomore year. His parents didn't want him to. As former Spartan end and All-Steel Valley teammate Dick LaLumia recalls, Butch was talked into playing football in 1955 by his teammates.
The Spartans dropped their first five games of the season, before getting into the win column, 32-20, over Hubbard. After a shutout loss to Struthers, the Spartans closed-out the season with 26-7 and 26-0 victories over Newton Falls and Fitch.
It was the win over Fitch that put fans on notice for the 1956 season, as Anderson tallied all four TDs for the winners.
However, Anderson had knee problems and in the spring of 1956 underwent surgery. He was given no more than a remote chance to ever play again.
By late summer and barely off crutches, Anderson vowed, "I'll be ready to play."
With hopes high for the '56 season, the Spartans opened on Sept. 14 with a 38-0 loss to the eventual Steel Valley champs that year, Memorial's Red Devils, under the tutelage of legendary Johnny Knapic.
Coach Thorpe said his team "seemed to be lacking spirit."
The Spartans came back in their next outing, besting Wilson High School's Presidents, 20-2, as Anderson was the difference, scampering for a pair of touchdowns.
He came back the following week, running for 106 yards in 16 carries, to lead Boardman to a come from behind, 13-7 win over the Niles McKinley Red Dragons.
Next up for Boardman was the Girard Indians, a team the Spartans hadn't defeated since 1927, and a team that featured legendary running back Bill Tripplet. But Anderson's knees were bothering him and it was uncertain how long, or if he could play.
Butch put on an exhibition that left fans dazzled, and by the end of the game, the fans in the stands at Boardman Stadium gave him a standing ovation.
In a 34-13 win, Butch rambled for four TDs, including a pair on runs of 76 and 36 yards, and finished with 242 rushing.
Next up for the Spartans was Youngstown North, and Anderson saw limited action in a 26-2 Boardman win. Despite issues with his knees, he still scored a pair of TDs and also tossed a 28 yard scoring strike to LaLumia.
After carrying the ball twice and netting 40 yards in the following game against Hubbard, Anderson twisted a knee and left the field of play. The Spartans lost, 12-0.
The injury forced Anderson off the field for Boardman's next game, although the Spartans claimed an 18-7 victory over the Salem Quakers. Anderson was in Cincinnati during the game, undergoing an operation.
Boardman faced Struthers in the next to the last game of the season, and Coach Thorpe kept his injured player on the bench.
But Anderson kept telling the head coach, "I'm okay coach, put me in coach."
After the game, Coach Thorpe recalled, "More to please him that anything else, I put him in, and I kept my fingers crossed."
On his first carry, Anderson darted 64 yards for a touchdown. On his second carry, he went 13 yards for a score.
Later in the game, with Anderson on the bench, the Wildcats stopped the Spartans three times on the one yard line.
Thorpe inserted Anderson back into the lineup on fourth down, and Butch went untouched into the end zone for another TD. Boardman came away with a 34-12 victory.
In the game, Butch carried the ball just five times, gained 95 yards and posted three touchdowns.
The Spartans dominated Fitch in the season finale, topping the Falcons, 32-0, as Anderson ran 15 times, finishing with 147 yards and scoring three touchdowns, including one on a 55 yard jaunt.
Playing on bad knees, and through two knee operations during his junior and senior seasons, Anderson finished his career with 23 touchdowns. During his senior season, he rushed for 797 yards in just eight games.
In addition to the big win over Girard in 1956, the Spartans won their first game over Niles in 27 years, their first win over Wilson since 1940 and only their second win ever over Struthers.
Anderson was named the SVC's back of the year and in addition to All-SVC and All Northeastern Ohio laurels, he was named third-team All-Ohio running back.
"He set the pace that stamps him as one of the greatest gridders in Spartan history," Coach Thorpe said, adding "He played the lead part in an episode that clearly exemplifies the rewards of deep-rooted determination and desire."
Former Spartan assistant grid coach Ed Lugibihl echoed the head coach, noting "Back in those days, nobody could beat him. He had all the athletic ability."
Butch Anderson was inducted into the Boardman High School Hall of Fame in 1985. He died Aug. 3, 2013 in Oregon after battling diabetes and other complicated medical issues.
His performance against the Girard Indians in 1956 still rates as one of the best showings ever in a game in Boardman High School history.
Top Five Single Game
Boardman HS Rushing Records
1) Larry Tracy, 1965 vs. Hubbard.......265 yards
2) Evan Beard,1999 vs. Pickerington....248 yards
3) Russ Spitz, 1977 vs. Wilson.........246 yards
4) Butch Anderson, 1956 vs. Girard.....242 yards
5) Evan Beard, 1999 vs. Brunswick......240 yards