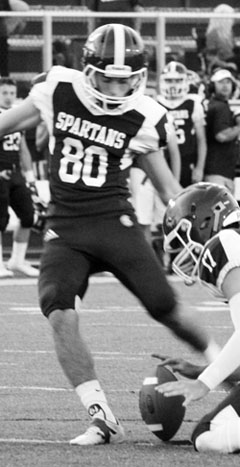 Tommy Fryda
BY GREG GULAS
Boardman News Sports
bnews@zoominternet.net
The Boardman Spartans have a storied football history and along with its many on-field successes, they've found a way over the years to produce placekickers who have quietly stood out for their contributions and outstanding play.
Players like Chris Dennis, who would go on to kick collegiately for the Miami Hurricanes in the early 1970's and was Boardman's first 'soccer-style kicker,' to Mike Pollifrone in the mid-1980's, to Mark Griffith in the 1990's, to Andrew Good in the early 2000's and Trevor Ragan from 2008-09, each contributed in their own way to Boardman's football legacy.
Each of the above players can now move over and welcome Tommy Fryda to the top of the scoring list after his second of four placements during Friday's 31-14 win at Garfield Heights made him the career kicking leader with 128 points.
That placed him ahead of Good on the all-time kick-scoring legend – Good scored 127 career points – and after adding two more placements and a field goal for a seven-point night, he now has 133 career points.
With four regular season games remaining and barring injury, Fryda, the son John and Marie Fryda, will undoubtedly add to his record.
"It is humbling when I see the other players on that list and I am now mentioned along with them," Fryda said. "Some of my teachers have told me stories about them and they've all had outstanding careers. I consider myself very fortunate to be listed among them."
Fryda carries a 3.65 cumulative grade point average academically and would like to become a chiropractor. His head coach, Joe Ignazio, calls him the ultimate student-athlete.
"Congratulations to Tommy for he is a model of what it means to be a student-athlete," Ignazio stated. "He has experienced success in the classroom and across three sports. He's able to maintain balance, all while participating in two fall sports.
"He has given us a solid foundation for the special teams phase of our game for the past four years. It is a testament to the support he has from his family, coaches and teammates."
Fryda wasn't always a football player for soccer was his first love. While in sixth grade, his teacher, Ryan Barrett, who is now an assistant football coach at Niles McKinley, talked him into pursing football in addition to soccer.
He credits the late Nick Liste, his gym teacher who kicked for Youngstown State, with helping to hone his game.
"Mr. Liste worked with me quite a bit and almost everything that I know and learned football-wise, I learned from him," Fryda added.
Fryda entered the season as the career leader in extra points with 87, eight ahead of Good (79; 2000-02) and 22 in front of Ragan, who successfully converted 65.
With 16 extra points this season, he now has 103 PAT's overall to become the only player in program history to reach the coveted century mark.
Of the six games which Boardman (2-4) has played this season, Fryda converted an extra point in their season lidlifter against Erie McDowell (a 41-7 win by the Trojans), had two field goals and three extra points in their 27-14 win at Poland in Week No. 2, added two placements in Week No. 3, a 49-14 loss at Massillon Jackson, registered a field goal and three extra points against Howland, a 27-24 win by the Tigers on September 20, made three extra points during a stinging 28-27 loss at home to Cardinal Mooney in Week No. 5 then added seven points on four extra points and a field goal last Friday against the Bulldogs.
With four field goals this season – he made four as a junior last year and two in 2017 as a sophomore but failed to convert as a freshman – Fryda now has 10 career field goals to tie Griffith for third overall, six behind Good's 16 for second-place and nine behind all-time leader Ragan, who had 19 in his career.
He also ranks second with 35 extra points in a season – he is tied with Pollifrone, who also converted 35 in 1985 – one behind leader Phil Curl who converted 36 in 2007 while his six extra points in a game against Ashtabula Lakeside last year ties both Good – he did it twice, first against Woodrow Wilson in 2002 and then against Chaney in 2002 – and Pat Hughes – he made six against Austintown Fitch in 1997 – for tops in a game.
While he hopes to kick collegiately and is awaiting to see if any offers roll in, Fryda is also a four-year starter and letterwinner in soccer for head coach Eric Simione, has played basketball for head coach Pat Birch the past three years and while he isn't currently on the baseball team, he did play his freshman and sophomore years.
He's helped the Spartans' soccer team to an 8-5-1 mark at press time as they prepare for "Senior Night" against Warren Harding, then get ready for tournament play.
He was voted a captain by his teammates this season and in four seasons under Simione's tutelage, has registered 23 goals and 15 assists (his freshman year he had a goal and two assists, registered eight goals and an assist as a sophomore, during his junior campaign added nine goals and four assists and thus far as a senior, has five goals and eight assists.
"Tommy Fryda has played a significant role in our team finishing 12-4-3 last season, which was the best record for boys' soccer in since 1998," Simione noted. "Additionally, the team finished second in the All-American Conference, Red Tier and reached the district semi-finals in post-season play.
"This year, he has helped captain the team to an 8-5-1 mark and they will again finish second in the AAC Red Tier with a win over Warren Harding on Tuesday. He was selected Division I, first-team all-district last year and should do so once again this season, which we will find out on October 13."
Fryda's twin brothers, Brian and Zach, also played for Simione.
"Tommy's older twin brothers also played soccer for me and they were both very good players," Simione said. "They each used to privately ask me who was better, so as a joke when Tommy showed up, two years after they graduated, I would quip that Tommy is best Fryda which with all due respect to Brian and Zach, may very well have turned out to be true.
"Tommy has been such a central part of so much of what we have done, especially offensively for the past four seasons. He's like our Shakespeare, he makes plays and it will be odd not having him out on the pitch next year."
Fryda said he has enjoyed his time with Simione as a member of the school's soccer team.
"I've had coach Simione in class for both U.S. History and the History of Rock and Roll and he's a great guy," Fryda stated. "He's an excellent coach, knows the game and is fun to play for. Hopefully we can make another deep run this season in the tournament."
In basketball, Fryda is looking forward to his senior season once the football and soccer seasons wrap up.
"It's a big transition when you get to basketball season," he added. "Coach Birch works us really hard and knows how to run a program. We're looking to have another great year and to develop team chemistry, we eat lunch together every Friday."
Birch admires Fryda's work ethic, both in the classroom and on the field of play as he averaged 5.5 points and 2.1 assists as a junior a season ago.
"Tommy has been in our basketball program since he was a little kid and it has been fun to watch him grow and develop as both a player and a young man," Birch said. "He was a significant member of our team last year, started some games early in the season then settled in as a key contributor off the bench.
"He provided great energy defensively with his constant motor as well as some scoring with his shooting. He plays with maximum effort, is easy to coach and heading into this season will once again be a big contributor to our team.
"He will be fighting for a starting guard position and if we have a successful year, Tommy will be a major reason why."