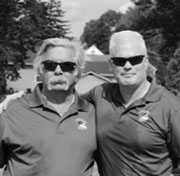 Nick Julian (L) Dan Lyons (R)
BY GREG GULAS
Boardman News Sports
bnews@zoominternet.net
For Dan Lyons and his late father, Jack, it was never about the wins as much as it was about molding the young boys they coached into men, good husbands and fathers as well as society's game-changers and future community leaders.
While Jack (he passed away in 2016) coached for 20 seasons (he coached over 450 players and won eight championships) beginning in the summer of 1968, he coached his five sons – the five Lyons boys include from oldest to youngest Jack, Mike, Dan, Terry and Brian – among the many players that he helped teach the game and mold before retiring after the 1988 campaign.
As divine intervention would have it, son Dan picked right up – albeit reluctantly at first – right where his father left off and beginning in 1989, the program never skipped a beat under his direction.
At age 54, Dan is finally calling it a coaching career so that he can take some time to now watch his sons play competitive sports.
"My father was a mild-mannered coach," Lyons said. "He wasn't a screamer, he was someone who knew the game and wanted to teach it to the young men from the area."
His parents are Chicagoans as his father was working for Reynolds Aluminum in the 'Windy City' before being transferred to Youngstown, a city they could call home for the next six decades.
"My dad and mom, Rita, were Irish-Catholic and hailed from the south side of Chicago," Lyons added. "He was voted the city's 'Most Outstanding Back' his junior and senior years while attending St. Rita High School and that was like making all-state in Ohio.
"When my dad was transferred, my parents knew nothing about Youngstown and moved to South Shore Dr. in Boardman. They saw that Boardman was building a new school and as die-hard Catholics, chose St. Charles as their parish. My two older brothers, Jack and Mike, attended and graduated from Boardman High School while my other two brothers, Terry, Brian and myself, attended and graduated from Cardinal Mooney."
Lyons noted that his father could have gone on to play in the Big-10, among some other schools in Power-5 conferences, learning the game from some ex-Chicago Bears players as well as legendary Bears head coach George Halas, who would attend St. Rita High School's practices and help coach alongside his former players.
"My father got to know Coach Halas because many of his ex-players would retire, then go on to coach and many of them ended up at St. Rita's," he stated. "He played collegiately at Loras College in Dubuque, Iowa and after we moved here, St. Charles was starting their football program, found out my father had a football background and they convinced him to become head coach.
"Coach Halas was always around when he played in high school and when he started at St. Charles, he ran the same offense as the Bears," Lyons noted. "It was a variation of the three-back, Power-I and T-formation with a lot of pulling and trapping. It also included play action passes, just like the Bears.
"It was very successful and after I played for my dad, I moved over to Don Bucci at Cardinal Mooney. My dad's offense was more complicated but both coaches, who were two different types of coaches, were very successful. Coach Bucci was a Vince Lombardi-type coach, an excellent motivator while my dad was a use your head type of coach."
Jack Lyons drove over 50,000 miles each year as an over the road salesman, calling it quits when his sons grew older.
"My father traveled quite a bit because of his job, yet he was always here to coach us," Lyons said. "I thought to myself; 'How did he do it?' but understood why he felt it was time to take a break."
When his father decided that he had enough, Dan had just finished college – he earned his BA degree in economics from YSU in 1988 – so when St. Charles approached him about the opening, he originally said no because he was working as a night shift supervisor – his shift was from 4 a.m. to noon – for UPS and didn't want to make a full-time commitment.
He reluctantly acquiesced and the rest, as they say, is history.
"My father always surrounded himself with good guys and while I tried to emulate him that first year, I didn't exactly have that," he noted. "I wanted someone who was going to stick around for the long term and that second season Nick Julian was that person.
"I knew that he was great with kids, so I called him to gauge his interest. While he coached many other sports, he told me that he had never coached football, to which I replied if you'll help me, I'll teach you what I know.
"Now 73 and a grandfather, he has been with me for 30 years and I owe him a lot. They just do not make guys like Nick anymore."
Julian said he has enjoyed his time with Lyons.
"I used to golf with Jack and he and his wife, Rita, were great people," Julian sated. "Without knowing them I probably would not have coached with Dan. I ran the defense, he ran the offense and we thought alike. Together, we won a lot of games and if I didn't enjoy it and have fun, then I wouldn't have done it for 30 years.
"It was fun working with Dan and the many kids over the years and I truly enjoyed it. We coached kids who later came back to help us, also coaching kids whose fathers played for us which is why it was so enjoyable."
With Julian by his side, Lyons helped guide the Lions to 14 championships and 10 undefeated seasons while participating in the highly competitive Catholic Youth Football League.
In 31 years, he has coached over 700 kids from St. Charles in the Boardman and surrounding areas, many of whom moved on to play for either Cardinal Mooney or the Boardman Spartans.
Combined, over 50 players that he coached from CMHS or BHS later moved on to play in the collegiate ranks.
Last year alone, Cardinal Mooney alum John Murphy now dots the YSU roster while BHS alums Michael O'Horo (Saginaw Valley State) and Tino Arcuri (Army) are also making a difference at the next level.
Lyons has coached 11 former players on this year's Cardinal Mooney roster and 14 former players that comprise the current Spartans' squad.
Current Cardinals head football coach, P.J. Fecko, has had two sons play for Lyons and counts on him for developing future players.
"Dan Lyons has touched the lives of so many young people over the years in such a positive way," Fecko stated. "The time and commitment over 30- plus years is to be commended. His efforts of not only teaching players the game of football, but teaching them life's lessons at such an early age has helped mold so many outstanding young people. He will be sorely missed by the youth football community."
"For me, I love the game of football and love kids which is why football is the best sport around," he said. "The game teaches you to work hard and today, more than ever, boys need that. It teaches you to be strong mentally and physically, two things that you are going to need the rest of your life.
"You're going to get a kick in your behind the rest of your life so you need to be mentally strong and learn to deal with that. At our level, teaching should be a positive experience."
Before taking the job, Lyons made it known that his two goals were to make sure that everyone got to play while making sure that everyone played a lot if they were a member of his team.
"I tell the parents that this is not big-time football, so don't get too excited or too disappointed in your child," he stated. "Make it a positive experience and as long as he likes and enjoys it, then he'll get better.
"I've seen some players that were superstars for me that later fizzled out," he noted. "I've seen others who were not as good become three-year starters in high school, later moving on to play collegiately and be a difference-maker because of hard work.
"Take it for what it is, work hard, learn the game and make it a positive experience. It's 80 degrees in August and 40 degrees in October so football isn't easy and at times, isn't fun, but it teaches you about life and life is a 40-year grind. It teaches you to cope with that grind and the fact that you have to work hard in order to succeed."
Learning from three of the very best, his father, Don Bucci and the late Ron Stoops, was something Lyons wouldn't trade for anything.
"I learned from three very good teachers in my father, Coach Bucci and Ron Stoops, Sr. That is to work hard no matter what," he noted. I hope that I have instilled that in the players that I have coached.
"I teach them to get out of bed each day, be courteous, say 'yes sir' and 'no sir' and know your manners because that teaches you to be good members of society. I tell them to always help their parents, do well in school and the best you can with your God-given ability.
"Do it on the football field, in school and at home. Do the best with the talent and ability that God has blessed you with."
Two of the more notable players that Lyons has mentored include Kyle McCarthy, who starred at Cardinal Mooney, Notre Dame and later the Denver Broncos, and Ray Vinopal, who also starred for the Cardinals and collegiately at the University of Michigan and Pitt, then played with the Dallas Cowboys and Pittsburgh Steelers.
McCarthy currently lives in Los Angeles and Vinopal in North Carolina.
Former Lions' player Jon Italiano, who played at Mooney and YSU, has also assisted Lyons the last six years.
"Coach Lyons is an iconic figure, not just for St. Charles football but for youth football in the entire area," said Vinopal, who currently serves as an investment banker for PNC Bank in Charlotte, North Carolina. "Many of my Cardinal Mooney teammates played for him and we can still hear him say 'cut the chatter.' He was my first experience with tackle football and a great all-around guy. He was the perfect guy for that job because we needed him and he enjoyed working with us. It was a great experience for all of us," Vinopal said.
With participatory numbers down the past several years, St. Charles has had to merge with St. Christine's, Holy Family and St. Nick's. In addition to Lyons (31 years), Julian (30 years) and Ken Kollar (28 years) of St. Christine's, the three coaches combined to impart nearly 100 years of coaching experience to their players, something hard to find at any level of play let alone the youth level.
"Dan is a fantastic coach and I must say we have had some battles over the years," Kollar said. "You don't think rivalry when you think of fourth, fifth and sixth graders, but it was every bit Michigan-Ohio State and Cleveland Browns-Pittsburgh Steelers on the youth level.
"I really got to know Dan and he is a great football mind whose first goal is always the kids. We agree with that philosophy. I have the utmost respect for him and wish him well."
Like his father, Lyons drives over 50,000 miles a year while serving as a consultant for the Ford Motor Company in Cleveland
He currently resides in Canfield with his wife, Kelly, a teacher at St. Rose School in Girard and three children; Danny, a junior who is a member of the Cardinal Mooney football team, daughter Katie, a freshman cheerleader at CMHS and Brian, a sixth-grader at St. Charles who just completed the season playing for his father.
 NOTE---The Lions did send their head coach off on a positive note as they won their season finale, 24-7 over the Youngstown Chargers to finish 5-1 overall.
PICTURED:  ON THE SIDELINES DURING Dan Lyons' 30-year tenure as head coach of the St. Charles Lions was Nick Julian, at left. "We coached kids who later came back to help us, and also coached kids whose fathers played for us. That is why it was so enjoyable," Julian said of his partnership on the sidelines with Lyons.