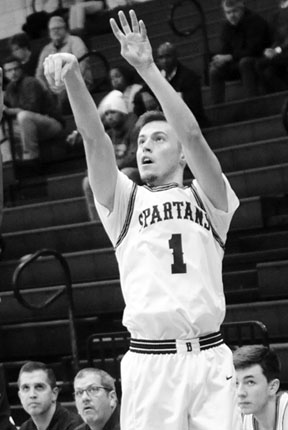 Tommy Fryda
Despite a 20-point first quarter by the Tallmadge Blue Devils, Boardman was able to take control of the game in the second quarter, going into halftime with an 8 point lead 34-26.
Derrick Anderson scored 9 of his 28 in the 2nd quarter and Tommy Fryda and Zach Ryan both hit big 3-pointers.
"The second quarter was really about out defense. We held Tallmadge to just six points in the quarter. We did a great job rotating and covering guys. Fryda had a couple steals, and Ryan and Trey DePietro did a really nice job on Tallmadge's best player, holding him scoreless in the second quarter," Boardman Head Coach Pat Birch said.
The Spartans came out firing and displaying a pesky defense, extending the lead to 55-38, and solid free throw shooting allowed Boardman to finish off a resilient Tallmadge squad, 71-49.
Anderson finished with a game high 28 points to go with 5 rebounds, 5 assists and 3 steals, while Fryda connected on five triples, on his way to 16 points. Fryda also snagged 7 steals and grabbed 3 rebounds. Ethan Andersen was the third Spartan in double figures with a dozen markers, to go with 8 rebounds and 2 blocks. Ryan connected on pair of shot from behind the arc for 6 points, along with a solid defensive effort. Trey DePietro added 4 points and played large inside, collecting 6 rebounds. Connor Miller and Daeone Martin chipped-in with 2 points each. Martin also grabbed 4 rebounds, and Joey Zahran rounded out the scoring with 1 point.
The win was Boardman's fifth in a row and improved their record to 15-1 on the season.
Boardman used a fast start, jumping on Howland 21-0 to start the game, to earn an AAC victory, 64-31, last week.
Anderson had a game high 20 points, to go with 5 assists. Fryda hit three 3-balls on his way to 11 points, and Martin added 8 points while playing strong defense, snagging 4 steals. Charlie Davis had 7 points and 3 rebounds. Andersen added 5 points and 5 rebounds. DePietro chipped in with 4 points and 4 rebounds. Jimmy Goske, Andrew Clark and Luke Ryan rounded out the scoring with 3 points each.
Zach Ryan had a strong floor game with 4 rebounds and 4 assists. Miller was a big factor defensively and Zahran grabbed 2 rebounds for the Spartans.
Junior Varsity
The Boardman junior varsity cage teamcould not keep down a hot shooting Tallmadge squad on Friday night, falling, 51-37. Tallmadge came out and knocked down eight 3-pointers in the game.
Leading scorer for Boardman was Spencer Smith with 9 points. Brady DePietro scored 7 points and Luke Ryan added 6.
Boardman pounced on Howland, 55-28. The Spartans jumped-out to a commanding 36-14 halftime lead, knocking down six 3-pointers in the half. Leading scorer for Boardman was Luke Ryan with 14 points. Marco Stilliana added 13 points, and Seth Cervello had 10 points. Other scorers were Carter Mraz and Danny Zahran 5 points each; Ty Ventresco, 4 points, and DePietro 4 points.
PICTURED: BOARDMAN'S TOMMY FRYDA, 1, connected on eight shots from behind the arc as Boardman posted victories over Tallmadge and Hudson.