Sunday October 1, 2023
Boardman Weather


% humidity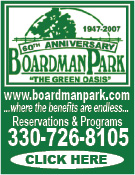 Kamperman Wins Div III Sectional Heavyweight Division
March 5, 2020 Edition

 COLUMBIANA HIGH SCHOOL junior Jacob Kamperman, left, won Div. III sectional championship honors last weekend at Rootstown High School in the 285-lb. heavyweight division, pinning all of his foes. In the title match, Kamperman was up against #1 seed Seth Phillips of Berlin Center Western Reserve. Phillips opened strong and took a 5-1 lead after one period. In the second frame, after battling back from a near fall, Kamperman turned Phillips to post a pin at the 4:49 mark of the match. Kamperman enters district competition at Garfield Heights carrying a 23-2 log on the year. He is pictured with Columbiana wrestling coach Doug Velasquez, a 1989 graduate of Boardman HS. Kamperman is the son of Rick and Christy Kamperman and his father is a 1998 Boardman HS graduate.