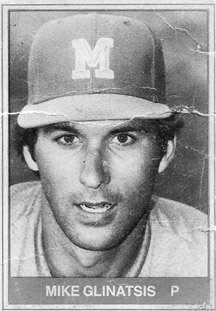 Mike Glinatsis Baseball Card
BY GREG GULAS
Boardman News Sports
bnews@zoominternet.net
The Youngstown Baseball League's 50-plus and 58-plus divisions will begin play on June 16 with a 10-game modified slate, including play-offs which will be played in early-September.
Former Boardman Spartans pitcher Mike Glinatsis will once again be a member of both Boardman FOG league entries and at age 65, is most excited to be playing in this, his 57th season of organized baseball.
A standout for the Spartans, on the local sandlots and at Youngstown State University for their late head coach, Dom Rosselli, Glinatsis was drafted by the San Francisco Giants in the 1976 June amateur draft after spending three seasons with the Penguins.
The day before the start of this year's YBL season will give Glinatsis a chance to pause and reflect for on Friday, June 15, 1979 in Jackson, Mississippi, 41 years and one day ago while playing for the Shreveport Captains – the Class AA farm team of the Giants at the time in the Texas League – Glinatsis threw the only no-hitter of his seven-year professional career.
The game was the first of a scheduled afternoon doubleheader as the Giants were in desperate need of a win and chasing the Mets in the standings, trailing their Eastern Division counterparts three and a half games.
"As I was warming up in the bullpen prior to the game, I really didn't have a special throwing session, one that I could say today is the day , I think I am going to go out and throw a no-hitter," Glinatsis said. "As things unfolded, I got stronger and felt better and the end result was a no-hit win that we really needed."
It was his third no hitter overall, having thrown a perfect game while a member of the local COLT League All-Stars – consisting of players from Poland, Boardman, North Lima and New Middletown – and another as a member of the Class AA NABF national champion Trolio's Sportswear squad in 1984.
Glinatsis ran his record to 4-2 with the win, needing just 67 pitches – 48 were strikes – with the closest thing to a hit a liner by Jackson's Mike Howard, which was speared by shortstop Tommy Runnells in the seventh inning.
He knew by the fifth inning, although he didn't admit it to anyone, that something special was unfolding.
"The unwritten rule that you don't bring anything up about a no-hitter being thrown was certainly invoked in our dugout," he added. "I just got ahead of the hitters, basically threw what my catcher, Bob Kearney, wanted me to throw and worked the corners.
"Former Major League player and manager, Bob Brenly, who played collegiately at Ohio University, was our third baseman and the got the grounder that ended the game. When he threw it over to our first baseman, Jose Barrios, to end the game, that's when it really hit me that I had just, in fact, thrown a no-hitter. It was a great feeling."
His manager, Andy Gilbert, who had managed Glinatsis the previous year when they were together in the Class AA Eastern League at Waterbury, Connecticut, told sportswriter Bill McIntyre in an article that appeared in The Sporting News the following week that his opening day starter was coming finally into his own.
"Last year, I thought it would probably take him two or three years to put it together, which he is starting to do right now," stated Gilbert, a native of Derry Township, Pennsylvania who passed away on August 29, 1992 in Davis, California. "Throwing 67 pitches in a seven-inning game means he is getting ahead of the hitters. When he does that, he's hard to beat. This year, he's not beating himself. He's not getting behind and walking guys."
Gilbert was old school and a pleasure to play for, according to Glinatsis.
"It was the second year that Andy Gilbert and I were together and basically, two-thirds of our team was kept intact from the year before in Waterbury," Glinatsis noted. "He was a former Major League player who started managing in the Minor Leagues in 1950 so he knew the ropes.
"He was a tough-nosed guy and 65 years-old at the time he coached us in Shreveport. He always had a story to tell and seemed to get the most out of the players that he coached. Everyone loved playing for him."
Glinatsis began his Minor League career in 1976, playing for Great Falls (Pioneer League) in the Rookie League before advancing to Class A and Cedar Rapids of the Midwest League.
In 1977, he finished his Class A career with the Fresno Giants of the California League, advancing to Waterbury and the Class AA Eastern League in 1978.
He spent 1979 and 1980 as a member of the Shreveport Captains and in 1981, was a member of the Los Angeles Dodgers' Class AA farm team, San Antonio, also in the Texas League.
He finished his professional career in 1982 as a member of the Miami Marlins, a Class A independent entry of the Florida State League.
He earned two trips to the San Francisco Giants' 40-man spring training roster for his play and finished his Minor League career with a 39-57 overall mark, pitching in 181 games, starting 114 while posting four shutouts and 32 complete games.
He toiled 855 innings, notched 464 strikeouts and finished with a respectable 4.20 earned run average.
"I've had fun at every stop along the way," Glinatsis said. "From Boardman Little League to COLT League, Class B to YSU, Class AA to professionally, and now in the Youngstown Baseball League to the Roy Hobbs World Series that is held in Fort Myers, Florida in the fall.
"I've made friends I would never ordinarily have made and met people I never would have met had it not been for baseball. Mike Trbovich was a scout for the Giants at the time when I was in college and I have him to thank for the opportunity to play professional baseball.
"I'll play as long as this body permits me to play. Quite frankly, I'm having as much fun now as I ever had. Baseball really has been good to me."
Unlike many other players, Glinatsis did return to college after his playing days ended and earned his bachelor of arts degree in geography – he minored in history – from Youngstown State in 1983.