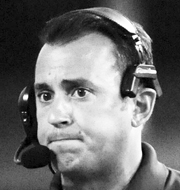 P J Fecko
BY GREG GULAS
Boardman News Sports
bnews@zoominternet.net
In the end, four state championships, three state runner-up finishes and 158 total wins during his 20 years at the helm wasn't enough for former Cardinal Mooney head football coach and alum P.J. Fecko to save his job.
Fecko was replaced as head coach on July 27 by new school president, Thomas Maj, who announced the change in its football operations.
Maj noted in a brief. three paragraph press release that Fecko would no longer be head coach but would continue to teach at the school, turning to another CMHS alum, Carl Pelini, to oversee its storied football program as the interim head coach.
Maj had previously hired Pelini, a former Florida Atlantic University head coach, Bowling Green State Falcons interim head coach and YSU assistant, as the school's associate director for advancement.
A text to Fecko seeking comment wasn't returned.
Fecko enjoyed nothing but success as both a CMHS player and the fourth head coach in the history of the sport at the school, which enters its eighth decade of competition when the 2020 season begins.
As a player for the Cardinals – Fecko played from 1990-92 and is a 1993 CMHS graduate – he was a member of two Steel Valley Conference championship teams and two playoff squads with their 1990 team advancing to the state semi-final round.
To understand the legacy that he leaves as head football coach, you must understand the legacy that his three predecessors left prior to his appointment in time for the 2000 season.
Opened in 1956, the Cardinals first head coach was John Hudzik (1956-60), who then passed the reins of the program off to Denny Barrett (1961-65).
The two coaches combined to post a 52-29-5 (.634 winning percentage) overall mark, building the program from the ground up while laying a foundation that took the program from relative obscurity to a force opponents would have to contend with if they appeared on their schedule.
If Hudzik and Barrett were responsible for laying the program's foundation, then Don Bucci, who came to the school as a part of Barrett's initial staff in 1961, took the program to unparalleled heights during his 34 years (1966-1999) as Cardinals' head mentor.
Bucci posted a 284-79-5 (.772) overall ledger in 368 games coached, leading the Cardinals to four state championships (1973, 1980, 1982 and 1987), a runner-up finish (1985) and 10 state "Final Four" appearances (1999, 1996, 1990, 1987, 1985, 1982, 1981, 1980, 1976 and 1973).
He assumed athletic director duties in 2000 when he passed off the program's baton to Fecko, who served as his defensive coordinator.
Many coaches will tell you that they want to be the head coach that replaces the head coach who replaced a coaching legend, opting not to deal with expectations of fans and an alumni base that can get restless if those expectations are not met.
For Cardinal Mooney and Fecko, however, it seemed to be a marriage that was made in heaven, despite the fact it didn't exactly start out as many, including Fecko, had hoped it would.
Fecko did everything but run from the challenge of replacing a state coaching icon in Bucci.
Instead, he embraced it.
As the team's defensive coordinator during Bucci's last season, Fecko's 1999 defense was a big reason the team advanced to the state semi-finals, allowing just 42 total points over their 14-game slate, an average of a mere 3.0 points per fray.
While the Bucci-era ended with three state semi-finals appearances in the decade of the 90's, the Fecko-era got off to a rocky start.
He started the new millennium with a 5-5 overall mark and followed that up with an un-Mooney-like winless season (they went 0-10) in 2001.
After a second 5-5 ledger in 2002, which left him 10-20 overall in his first 30 games as head coach, Fecko turned the corner and again Cardinal Mooney became a statewide force.
They went 8-3 and made the play-offs in 2003, beginning a string of nine consecutive play-off appearances (2003-11) and 11 over 12 seasons, missing only in 2012 when they suffered through a 3-6 campaign.
Overall, Fecko-coached teams made the playoffs 13 times – they were 143-38 (.790) overall during those playoff seasons – authoring a 38-9 (.809) post-season record and a mark admired by those coaches and programs who had once again failed to make it to the 11th week of the season.
Fecko's 12-year run beginning in 2003 and lasting until 2014 also produced two Steel Valley Conference titles, an SVC co-championship, a regional semi-final appearance, a perfect 15-0 slate (2009) and a 119-36 (.768) mark in 155 games played.
If you exclude the forgettable 2012 season when they went 3-6 overall, Fecko's teams authored a 116-30 ledger, an admirable .794 winning mark in 146 overall games.
In 65 years of football for the Cardinals, the program is 494-189-10 in 693 games played, an impressive .720 winning percentage.
During that span, the Cardinals have qualified for the playoffs on 29 occasions and own a 63-21 (.750) mark in 84 post-season games, ranking fifth overall and right behind other state tradition-rich programs Cleveland St. Ignatius, which is first overall, Maria Stein Marion Local and Newark Catholic, who are tied for second-place and fourth-place qualifier, Coldwater.
While statistics can read however you would like them to read, fact is that while school officials showed patience with Fecko his first three seasons when he was 10 games under .500 before finally breaking through with his first play-off appearance in year No. 4, impatience might be the best descriptor to use for the current decision makers.
Posting a 33-30 (.524) overall mark since 2014 and an 8-12 (.400) mark the past two campaigns, albeit with three play-off appearances, it might be an acceptable winning percentage in Major League Baseball yet was an un-Mooney like, six-year period that spelled the end of a fabulous 20-year run for Fecko.
Pelini will become the second consecutive CMHS alum to lead his alma mater, owning a football coaching pedigree who like Fecko, embraces a challenge.
He'll draw from his stops on the high school level as an assistant coach at CMHS and as head coach at Austintown Fitch, and collegiately as an assistant at YSU, Bowling Green State, Ohio University, Kansas State, Minnesota State and Nebraska, and as head coach of the FAU Owls, looking to returning the Cardinals to the state title game, a game in which they last appeared in 2013 when they finished as state runners-up.
There are two milestones Pelini will be a part of with the Cardinals' program in 2020 if, in fact, there is a fall season and one not shortened due to the current coronavirus (COVID-19) pandemic.
With 494 all-time wins, the Cardinals' sixth win will be their 500th all-time in school history while the seventh game played will mark the 700th all-time since the program's initial game during that memorable 1956 charter season.
Pictured: P.J. FECKO, pictured, was ousted last week as head coach of the Cardinal Mooney football program after 20 years at the helm.