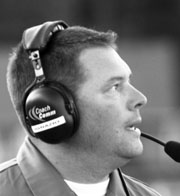 BHS Head Coach Joe Ignazio
The 2020 prep football season in Ohio was like no other season---as all teams dealt with uncertainties created by the coronavirus pandemic. Teams began practices not really knowing if they would ever take the field. When the games began, players lined the field 6-feet apart on the sidelines, each given a marker as to where they were to stand.
On the field, the referees were not allowed to handle the ball, not even to mark the line of scrimmage. Instead, they tossed a bean bag onto the ground, as the offensive team would take 'their' ball into the huddle and then to the line of scrimmage, where the bean bag was on the ground.
There were few fans in the stands, and those that were, were all 'socially distanced' in an effort to prevent the spread of the COVID-19 virus. It is unknown if anyone in the stands ever came down with covid symptoms due to attending games. Coaches strutted the sidelines in masks, while student-athletes on the field were un-masked.
When 'regular season' play began, all teams played under revised schedules that included every team in Ohio earning a spot in playoff action, no matter their record; as well they opened regular season play without holding any pre-season scrimmages.
And then there were the water bottles. Players coming off the field of play would get a fresh bottle of water to help them rehydrate, then toss the bottle to the ground, where a grid assistant was tasked with the job of picking-up the bottles and tossing them into a special waste can.
On the sidelines for each game was a special Ohio High School Athletic Association official, tasked with the responsibility of overseeing compliance with rules of play established under the pandemic.
Under the direction of eighth-year Head Coach Joe Ignazio, the Boardman Spartans finished with a 4-4 record, including a disappointing, season-ending loss to Painesville Riverside in second round playoff action. That game saw two coaches not with the team due to covid concerns, that were elevated after the game when some five Spartan coaches were hit with covid-related sanctions, causing cancellation of a regular-season game against Chaney, that was scheduled to follow the playoff loss to Riverside.
"The safety and well-being of our student-athletes was first and foremost. It was definitely an interesting year to say the least. But, I leaned on our coaches, athletic director, principal and superintendent.
"We discussed controlling the controllables. Our job was to get better at football. When an incident arose we dealt with it. A lot that dealt with covid was out of our hands.
"We had protocol in place for everything you can think of. It was the first and only year that I had to actually create a social distance seating chart for the football field. Everyone involved, including our kids, did their best to adhere to the protocol in place for everything you can think of. It was the first and only year that I had to actually create a social distance seating chart for the football field. Everyone involved, including our kids, did their best to adhere to the protocol in place. Wearing masks, making sure everyone had their own water containers, practice plans were adjusted to abide by guidelines, how our student-athletes entered and left facilities, social distancing, and how they were fed/ate were all part of the changes that took place," Coach Ignazio said.
The Spartan mentor said he felt the challenges of the 2020 prep season were both similar and unique for all area programs.
"The challenges started early on with our off-season strength and conditioning program. It is the foundation we build off of every year. We had to trust in the self-discipline of our student-athletes to carry out the workouts/challenges that we posted on our Football Google Classroom. We really found out who bought into our program at that point. Every team deals with injuries and other adversity. Our program was not free from that.
"But, we did not use it as an excuse either. We talked about it being an opportunity for someone else to step up," Coach Ignazio said.
Boardman will lose several, key seniors from this year's team as they look towards the 2021 campaign.
"Jake Powell led our defensive front. He was a captain and someone our seniors looked up to. Nick Winsen, Anthony Micco (captain), and Ryan Henry were senior leaders up front on both sides of the ball. They laid a foundation that the younger kids can build off of going into next year.
"Our linebacking crew was led by Ritchy Evans.
"Powell, Winsen, Micco, Henry and Evans laid the foundation the younger kids can build off of going into next year," Coach Ignazio said.
"Marco Stilliana (captain) played safety and was involved offensively early on until he was injured. He is a tremendous program kid and was out there playing with a big club on his hand the rest of the season. Jahiem Johnson made some big plays down the stretch at cornerback," Coach Ignazio said about his senior leaders.
Powell (6-2, 225 lbs.) was among the team leaders in total tackles with 43 takedowns, a couple of pass break-ups and three tackles for minus yards. His lone fumble recovery on the season came in the playoff game against Painesville that kept the Spartans in the game.
While the Spartans will face some rebuilding on their front wall on both sides of the ball next year, the cupboard is not bare when it comes to skill players.
"Our skill players are really talented and mostly all juniors," Coach Ignazio said, noting the Spartans two best players statistically were Terence Thomas on the offensive side of the ball; and Sean O'Horo on the defensive side.
When projected starting quarterback Jason Triveri was forced out of action at the beinning of the season, Thomas assumed that role.
"Terence is a kid who already has offers from Kentucky and Youngstown State University. He was all over the field for us. He stepped-in when Jason (Triveri) broke his ankle and unselfishly did what it took to lead the team on the offensive side of the ball.
"He played quarterback, wide receiver and was a big part of our return game," Coach Ignazo said, adding that Thomas is "a dynamic athlete with the type explosion that colleges love at the next level. He shows it on the defensive side of the ball as well."
On the season, Thomas connected on 26 of 61 passes good for 380 yards and five touchdowns; and ran the ball 69 times for 655 yards and six touchdowns. He also had 13 kickoff returns, amassing 380 yards and a pair of touchdowns; and tallied a TD on one of his three punt returns.
O'Horo set the pace for the Boardman defense, totaling 64 tackles on the season that included a dozen takedowns for minus yards from his cornerback slot. He was also the Spartans leading rusher, netting 662 yards on 121 lugs, and scoring four touchdowns.
"Sean is a workhorse. He is as tough as they come. He was our leading rusher and leading tackler. He played his best football toward the end of the year," Coach Ignazio said.
Other junior class standout for the Spartans this year were Cam Thompson at wide receiver, Triveri at quarterback, safety Stephen Conti, safety and wide receiver Brayden Joseph, as well as Joe Sferra, Cortland Love and Aiden Miller on the front lines; as well as Anthony Hightower, who saw action on both sides of the ball.
Thompson led the Spartan receiving corps, hauling down 16 passes for 411 yards and five touchdowns.
"Cam led our team in receiving and remained patient through our injuries at quarterback. He really connected with Jason Triveri at the end of the year," the head coach said.
Triveri sat out Boardman's first four games of the season rehabbing the ankle injury. In four games under center, he hit on 37 of 76 passes good for 632 yards, eight touchdowns and had seven interceptions.
Conti was another defensive safety who filled-in due to injury throughout the year and ended up keeping a starting position.
Sferra, Love and Miller will all return as starters next year on the offensive line. Sferra and Love also got significant time on defensive side of the ball this season.
Joseph played wide receiver and safety as a junior. He was injured early in the season and played through the injury.
"He will be a significant contributor on both sides of the ball next year," Coach Ignazio said.
Hightower had 11 catches for 172 yards and a TD at the wide receiver post and was also strong on defense, logging 42 tackles, while leading the team in interceptions (4) and pass break-ups (5).
Also back next year will be placekicker Carson Essad, who split the uprights on 21 of 27 extra point attempts; and also hit one field goal on the season as a sophomore. His seven PAT boots vs. Cuyahoga Falls set a school record.
PHOTO: BOARDMAN HEAD GRID COACH: "Every team dealt with injuries and other adversity. Our program was not free from that. But, we did not use it as an excuse either. We talked about it being an opportunity for someone else to step up."