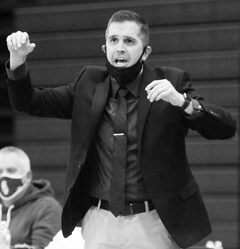 Pat Birch, BHS Head Basketball Coach
BY GREG GULAS
Boardman News Sports
bnews@zoominternet.net
With their 54-42 victory over arch-rival Austintown Fitch on Friday night, BHS boys' basketball coach Pat Birch earned the 100th victory of his scholastic coaching career, all coming during his nine seasons at the helm of the Spartans' cage program.
"In the moment right now, I was just thinking of our game with Austintown Fitch," Birch said. "I was just thinking about what we could have done better and what we need to do to get better but I know I will sit down at some point in time and realize that it has been a rollercoaster ride of its own, kind of like tonight's result.
"We've had those years where I was questioning what I was doing. You start to question your program yet you've had those years where you could see what it could be like. I've always believed that if you did things the right way, the kids played hard and they were unselfish then you'd get wins, eventually, and we've been able to do that the last few years."
The Spartans (7-2, 2-0: All-American Conference, Red Tier) scored the first nine points of the game, built a 32-17 halftime advantage and a 21-point (47-26) lead heading to the final period, then had to withstand a furious Falcons (4-6, 1-1) rally over the final eight minutes for their third consecutive victory of the season.
With the win, the two-time defending AAC Red Tier champions have now won 21 straight league contests dating to the final regular season game of the of the 2017-18 campaign – they defeated AFHS, 51-41, at home on February 22 – have won six straight games against the Falcons and bagged 49 wins in their 57 outings, an impressive .860 winning percentage.
To appreciate Birch's run and the success the program has enjoyed over the past two-plus seasons, one needn't look any further than Birch's first six seasons at the helm and the struggles both he and his staff endured while patiently implementing what has become a take note formula for success at 7777 Glenwood Avenue.
Quite frankly, his teams have taken on the persona of their coach and that can only spell trouble for opponents that either visit or host the Spartans basketball juggernaut.
Luke Ryan, who scored a team high 11 points – he had two triples and a three-point play in the second quarter – has witnessed his share of Spartans and Birch victories, having also spent time in the stands as a spectator watching brothers J.R. and Zach flourish in Birch's system.
"It's really special for me to be a part of tonight's celebration for coach Birch," Ryan added. "I've been watching him coach my brothers the past several years and it's so much fun being a part of this success. It's a great experience for me."
It seems like eons ago that the 2002 Springfield Local High School graduate recorded his very first win, a 51-40 decision at Campbell Memorial on December 4, 2012 in his second game at the helm.
"I was very fortunate to play under an excellent coach in Jeff Brink," stated Birch, who was the starting point guard his final two seasons for the Tigers. "Coach Brink shaped my fundamental views of coaching which were team first, maximum effort and being fundamentally sound.
"We had a lot of success following that formula, going 41-4 during my junior and senior seasons, including an undefeated season my junior year."
While that formula worked for the Tigers, Birch's teams struggled early in his coaching career as they were just 5-41 after his first two seasons and a mere shell of today's winning program, going 10-48 just 58 games into his tenure.
BHS administration, however, recognized his 'stick-tu-itive' approach, stuck with him and nine years later they continue to reap the benefits of his 24-7 approach to the game.
Eric Simione, current home basketball public address announcer – he has manned he microphone from his familiar seat at press row the past 24 seasons – and boys head soccer coach, who along with Birch serves as a social studies teacher, has watched his fellow teacher and coach grow his program while sticking to his ideals, beliefs and the proper way to deal with his players, both on and off the court.
"Boardman was wise to give a young Pat Birch both the opportunity to lead our basketball program and the time to implement his system," Simione said. "He's like a brother to me and while we started celebrating rare victories in those early seasons, tonight we celebrate his many victories.
"I'm proud of him and the Spartan that he has become."
A 2007 graduate of Baldwin-Wallace University, Birch played four years at defensive back for the Yellow Jackets, lettering in both his junior and senior campaigns.
He credits the collegiate grid game for his discipline.
"Playing college football taught me so much," Birch added. "It taught me about time management, playing through adversity but most of all, having to earn everything, including playing time as a member of the team."
Birch earned his undergraduate degree from B-W in secondary education-integrated social studies, later earning his MA in administration from Youngstown State University.
His first job upon graduation from college was at Hudson High School, which reunited him with Brink and ultimately provided him the opportunity to begin his scholastic coaching career.
"I was a permanent building substitute teacher," he stated. "This position allowed me to form many relationships as I moved throughout the building each day. My first coaching job at HHS was when I served as head freshman basketball coach, that coming during the 2006-07 season.
"Coach Brink had just been hired as Hudson's new head basketball coach after two very successful stints at Springfield Local and Salem High School. I was in my final year of college and finishing up my student teaching when he asked me to come on board.
"He gave me an opportunity to assume the reins of my own team and for that I have been forever grateful. That experience was invaluable and forever cemented my path to becoming a head basketball coach.
"That first game was quite memorable as we rallied from 14 points down at Twinsburg and won so I was forever hooked on coaching. The following season I moved up as the Explorers junior varsity head coach before getting hired at Boardman, that coming in June of 2008 as a full-time social studies teacher."
Birch began his BHS coaching career during the 2008-09 academic year, serving as an assistant coach for Jim Goske where he helped mostly with the junior varsity team and their youth program.
For the next three years, Birch was the head JV coach, working one season under Goske and then two more under former head mentor, Dan McKeown. It was during that time that he also coached varsity football and assisted with the freshman baseball program.
After four seasons as an assistant, the Spartans' head coaching job became open and despite his youth, Birch felt he was ready to take the next logical step in his coaching career.
"It was the fall of 2012 when the head basketball position became available so I decided to throw my hat in the ring," Birch noted. "I was coaching varsity football at the time and completing my master's degree but I thought it was an opportunity on which I could not pass.
"I was a young coach but believed that I could provide stability and over time, build a strong, winning program.
Despite a rocky start to his coaching tenure – the team was 3-20 and 2-21 during his first two seasons at the helm – he never wavered, stuck to his plan as players began to buy into his system.
"My first couple of seasons were very tough," he said. "We were still in the Federal League, which had taken its toll on the program. The travel, lack of rivalries and overall talent gap led to an enthusiasm and interest decline in the program."
It was when the Spartans joined the All-American Conference that Birch's program took a 180 degree about face.
"Heading into my third season, which was in 2014-15, we joined the All-American Conference. It renewed rivalries and energized the program," he said. "The first two years were spent learning how to win games as we finished with just five wins both years.
"Despite a losing record, those teams began to change the culture of our program and during my fifth season we finally broke through. In 2016-17, we recorded 19 wins and were runners-up in the conference to eventual district champion, Warren Harding. That senior class was the group that took what we had been building and finally got us over the hump and it's that group that will always be so very special to me."
Current BHS director of athletics, Marco Marinucci, admires not only Birch's approach to the game but that of his staff and players as well.
He said that approach has been contagious.
"Coach Birch has worked incredibly hard over the years," Marinucci stated. "His work ethic has become contagious among his assistants and players throughout the years and he is most deserving of this milestone."
The 2017-18 season was a step back for Birch as the team posted nine victories for the third time in four seasons, dropped three overtime contests as it couldn't seem to replicate the successful formula from the previous year.
"That season probably taught me more than any other year of my coaching career," Birch noted. "I learned that creating a winning program is never really finished and that your standards have to constantly and consistently be reinforced."
While the 2017-18 campaign might have taken a step back in the development progression, the last two seasons (2018-19 and 2019-20) have been full speed ahead with the foot down all the way on the pedal and showing no signs of letting up.
"All of our hard work seems to have come together the past two-plus seasons," Birch said. "We were very fortunate to have some great leaders, unselfish kids and talented players that fortunately, all came together at the same time. Those 2019 seniors led the way with their leadership and unselfishness but it was the 2020 senior class that truly represented everything we want our program to be about.
"They were a dedicated group who played extremely hard and unselfish and not only were they successful on the hardwood, they were great representatives of our community."
Former BHS girls' basketball coach and current assistant athletic director, Jeff Hammerton, started his coaching career at the same time as Birch, adding that he loves and admires everything he stands for as the face of his program.
"Pat and I started our head coaching career's the same year and we both wanted to make lasting impacts in our respective programs," Hammerton added. "We would talk in the gym daily and I just knew he would accomplish great things.
"This milestone victory is so well-deserved and with his work ethic, I just know that there will be many more wins and accolades still to come. I couldn't be any happier for him."
During the Spartans' run over the past 57 games, Birch was named the MVCA (Mahoning Valley Coached Association) Coach of the Year on two separate occasions (2017, 2020), earned the OHSAA (Ohio High School Athletic Association) State Award, also in 2017 and in 2019, was named Northeast Ohio Inland District Coach of the Year.
The Birch File:
Overall Record: 100-97 (.508)
Yearly Record:
2012-13.........3 - 20
2013-14.........2 - 21
2014-15.........9 - 14
2015-16.........9 - 15
2016-17.........19 - 5
2017-18.........9 - 14
2018-19.........20 - 4 (1st AAC)
2019-20.........22 - 2 (1st AAC)
2020-21..........7-2*
*Record through first nine games of season.
Milestone Victories
Win No. 1: vs. Campbell Memorial, 51-40 on December 2, 2012.
Win No. 10: vs. Austintown Fitch, 45-37 on January 16, 2015.
Win No. 20: vs. Ashtabula Lakeside, 75-62 on January 28 in 2016.
Win No. 25: vs. Niles McKinley, 63-43 on December 6, 2016.
Win No. 40: vs. Massillon Perry, 60-58 on February 21, 2017.
Win No. 50: vs. Youngstown East, 58-34 on February 3, 2018.
Win No. 60: vs. Howland, 73-46, on January 11, 2019.
Win No. 75: vs. Uniontown Lake, 64-43 on December 17, 2019.
Win No. 80: vs. Austintown Fitch, 68-44 on January 14, 2020.
Win No. 90: vs. Youngstown Chaney, 66-60 on February 14, 2020.
Win No. 100: vs. Austintown Fitch, 54-42 on January 15, 2020.
Top-5 Memorable Games
In addition to Friday's milestone 100th career coaching victory, Pat Birch recalled five of his most memorable victories during his nine seasons at BHS head boys' basketball coach:
 •No. 5, 2012-13 vs Cardinal Mooney: "It was a great atmosphere and gave us a glimpse of what the future could look like."
 •No. 4, 2013-14 vs North Canton Hoover: "We shocked the Federal League by upsetting the Vikings. It was an awesome experience."
 •No. 3, 2016-17 vs Warren Harding: "We opened up what would become a memorable season with an unforgettable game versus Harding. Down by double digits with a few minutes to play, we rallied back to stun the Raiders. This win launched us to a great season."
 •No. 2, 2018-19 at Canfield: "In the middle of a 16-game winning streak, we played at Canfield and a gym that we had not won at in a very long time. We came out and played one of our better games of the season, pulling away while this win unofficially made us AAC Red Tier favorites.
 •No. 1, 2019-20 "Senior Night" versus Austintown Fitch: "We celebrated the 50th Anniversary of the 1970 "Final Four" team. This night connected our program's rich history with our present success. It was an unforgettable night, one in which the community showed outstanding support for our student-athletes.
 •Honorable Mention: Home tournament games vs Dover (2019) and Wooster (2020). "The environment in our gym for both games gave me the chills. There was a moment in each game where we needed our crowd and right on cue, they rose to their feet and electrified the gym!"
Note: Special Thanks to Eric Simione who
helped with the statistics and fact verification for this article.