Sunday October 1, 2023
Boardman Weather


% humidity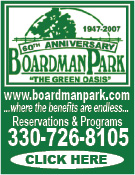 4x1600 RELAY TEAM SETS NEW SCHOOL RECORD
April 14, 2021 Edition

THE 4x1600 RELAY TEAM set a new school record last weekend at the Medina Relays. Pictured, from left, the relay team of Alayna Cuevas, Lauren Bero, Raegan Burkey and Julia Gorby set a new school record with a time of 22:11. They broke the previous record of 23:04 set in 2013 by Daisy Corso, Trista Cunningham, Brandi Gatte and Jordan Grantonic.