Sunday March 26, 2023
Boardman Weather


% humidity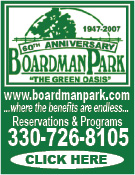 Boardman Tennis And Swim Club Recognizes Last Original Member, Judy Sommerlad
September 15, 2022 Edition

 On September 5, the Boardman Tennis and Swim Club honored Mrs. Judy Sommerlad for 59 years of membership in the facility. Judy is the last 'original' member who established the club. In 1963 the Boardman-Canfield Swim Club was established after much planning and discussion. The club was originally going to be built on farmland just north of West Boulevard School. The farmland asking price was a bit too high, so the club decided to purchase land where it presently is located on West Boulevard. The 400 original members each paid $350 to purchase stock and begin the construction process. The dues for members were originally $25/year. Judy and her husband, Jack, were the 56th member to buy stock in the new facility. Their stock is numbered and signed by the first president, Robert Froom, and the first secretary, Paul Zellers. The date of Judy's stock acquisition is July 1, 1963. For 59 straight years, Judy has paid her yearly dues to maintain her membership. The now named Boardman Tennis and Swim Club knows of no other original stock certificates and interested parties may view the stock certificate hanging on the club's office wall. Judy presented the stock to the club board and current membership at the annual end of the summer picnic on Labor Day. Judy and her husband worked for the government during the Korean War in the Counter Intelligence Bureau in Washington, DC.