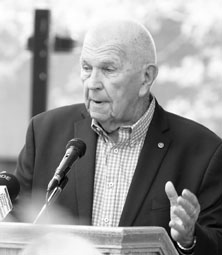 Daniel H Becker
The fountain area at the core of the Youngstown State University campus, where students and the community have gathered for decades to study, lunch and socialize, is being named for Daniel H. Becker, chief executive of Becker Funeral Homes, and his family.
The naming is in recognition of Becker's $1 million gift to YSU to establish the Daniel H. Becker Family Scholarship.
"All of us at YSU thank Dan and his family for their ongoing support of the university and the entire Mahoning Valley community," President Jim Tressel said. "His legacy will live on in perpetuity at this very special place on campus."
The annual scholarship will go to a full-time student with a minimum 2.5-grade point average, with a preference for students from Struthers, Becker's hometown, and who volunteer in their communities.
"We are proud to be so closely associated with a business and a family that is so well-regarded and respected as the Beckers, whose commitment to the Mahoning Valley dates back more than 100 years," said Paul McFadden, president of the YSU Foundation.
The Becker family has been in the funeral profession since 1896; the business now has four locations throughout the Mahoning Valley. Dan Becker, who was educated in the Struthers schools, Mercersburg Academy, YSU and the Pittsburgh Institute of Mortuary Science, began working in the family business as a teenager with his father, Hazen. He joined the business full time in 1961, upon his return from the Army as a Paratrooper Sergeant with the 82nd Airborne Division.
In 1967, Becker founded Gold Cross Ambulance and Medical Service, and ran the company for 28 years until selling it in 1995. While operating the ambulance company, he was a pioneer in working with the state legislature to establish standards for emergency medical technicians.
He was president of the Mahoning, Trumbull and Columbiana Funeral Directors Association and a member of the Ohio and National Funeral Directors Associations. Becker is a longtime member and current president of the Ohio Embalmers Association. He also formerly served on the boards of Aqua Ohio and Western Reserve Bank.
Becker has been an active member of the community. From 1974 to 1978, he was an adjunct faculty member at YSU, teaching first aid and personal safety. Becker also served on the Struthers City Board of Education, and he is a founding member of the Struthers School Foundation for Educational Excellence. He is a former Board member and served as Vice President of the Ohio American Heart Association. He served as a board member for many years for the Mahoning County and Youngstown Libraries, as well as the Better Business Bureau of Youngstown, the Struthers Fire Department and the Dyslexia Learning Center of the Youngstown Scottish Rite.
Becker is a 33-degree Mason. He served as scout master of Troop 16, is a member of the Struthers Rotary, and is a graduate of Leadership Mahoning Valley. He is a member of the Struthers Parkside Church, formerly known as the Struthers Presbyterian Church, where he has served as a deacon, elder and chairman of the congregation.
Dan and the former Margaret (Margy) Trucksis were married nearly 54 years before her death in July 2009. They have five children: Kim Horyn of Cape Cod, Mass.; Kandace Becker-Hagendorn and Kelly Becker, both of Poland, Ohio; Kate Becker of Rocky Point, Mass.; and Daniel H. D. Becker of St. Paul, Minn. They also have nine grandchildren. His daughters Kim Horyn, Kelly Becker and Kate Becker, and a grandson, Robert Rumberg, are all graduates of YSU. Becker's partner of 11 years, Dottie Melody, is a 1962 graduate of Youngstown University with a degree in Education.
A fountain has been part of the YSU campus since at least 1966, when the Kilcawley Center student union first opened, according to University Archives. The original fountain was in the same approximate location but had three spouts and a shallow pool.
In 1973, the campus underwent a major expansion, with five new buildings under construction. At that time, the YSU Board of Trustees approved a master landscaping plan that was part of an overall strategy to remove vehicular traffic from the center of campus and create a pedestrian campus core. Construction of the new campus core, with the circles and mounds that still exist today, started in July 1974, and was completed in May 1976.