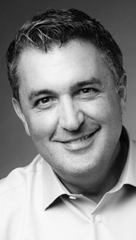 Dr John Cox
Dr. John Cox, son of late Boardman Trustee John Cox and his wife, Melanie, will serve as grand marshal of the 45th St. Patrick's Parade that will get underway at 1:00 p.m. on Sun., Mar. 12, along Market St. (from the Township Government Center to Southwoods Dr.).
He grew up on Wildwood Dr., immersed in his Irish heritage (remember the Cox-Corbett St. Patrick's Day celebrations?). As a child, his Irish education included frequenting the Ancient Order of Hibernian pubs with his dad and uncles, and spending summers at The Gaelic Club and attending every St Patrick's Day parade.
After graduating from Boardman High School, he attended John Carroll University then transferred to Youngstown State University where he earned a bachelor of science degree in biology. Cox went on to Kansas City University College of Osteopathic Medicine where he received his degree Osteopathic Medicine.
He returned home and was a resident in pediatrics at Tod Children's Hospital in Youngstown. In 2001, he served as Chief Resident at Tod's. He started the Pediatric Hospitalist Program at Mercy Medical Center in Canton. After commuting for eight years, he opened Wee Ones Pediatrics in Canfield and is still in private practice.
Cox is well-known in the Mahoning Valley for his roles in acting and directing at the Youngstown Playhouse.
While in Kansas City, he auditioned for an Improv Comedy Troupe and spent three years performing professionally as an improvisor and stand-up comic.
While in residency, he acted in his first play at the Youngstown Playhouse, and since 1997, he's appeared in over 50 productions. Some of his favorite roles include Stanley in A Streetcar Named Desire, Felix in The Normal Heart, Oscar in The Odd Couple, Pseudolus in A Funny Thing Happened on the Way to the Forum and Nathan Detroit in Guys and Dolls. His latest role was Dr. Alan Perkins in Couples Therapy. Cox has directed several shows, including The Irish and How they Got that Way that runs from March 24-26 at the Playhouse.
He is a member of the Board of Directors at the Playhouse and has served as president for the past four years.
As his father was involved in community service, Dr. Cox has served as medical director of 4 our Kids, on the Board of Directors of Mahoning County Children's Services and is on the The Doctors Advisory Board of the Hope Foundation.
Lord Mayor of Kilkenny
Serving as Lord Mayor of Kilkenny for the St. Pat's Parade is Mary Jane Vennitti. She became actively involved in local Irish activities in 1984. At that time she went to St. Dominic Church to take adult ceili dance lessons with teacher Theresa Burke. Along with Irish dancing she also enjoyed the Irish music at the seisuns held at St. Rose Church.
Mary Jane's love of Irish music continued when she hosted the Irish Hour on WKTL on Saturday afternoons. She has been involved with the Irish Heritage Society, Youngstown Feis, Gathering of the Irish Clans, Celtic Heritage Fair, Muintir na hÉireann, and the Mahoning Valley St. Patrick's Day Parade.
Ockerman Award
Recipient of the Ockerman Award for this year's parade is Brian Kelly.
His involvement with the parade began at a very young age. His mother, Carol, and father, Ray, were very active in the Irish organizations and Brian road on many floats created by the Mahoning Valley Gaelic Society, The Ancient Order of Hibernians and the Ladies Ancient Order of Hibernians.
Brian's father, Raymond P. Kelly III, served as a longtime marshal in the parade and was a past Ockerman Award recipient. When Brian was older he would join his dad making sure Division 1 of the parade stepped-off on time and in an orderly fashion. Brian's 'behind the scenes' work have helped make the parade a success.
Brian is a proud member of The AOH. He is a past member of the Sons of the American Legion where he served as first vice commander and served as the Ohio POW/MIA chairman. Brian is employed at Macy's Fulfillment Center as a power equipment operator.