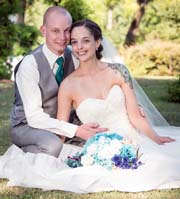 Melanie Diorio and Justin Davidson, both of Cary, North Carolina, were united in marriage on Aug. 5, 2017 at The Hudson Manor in Louisburg, NC, where a reception hosted by the bride's parents followed.
Melanie is the daughter of Gary & Anna Marie Diorio of Boardman, and Justin is the son of David & Kellie Levy of Whittier, North Carolina.
The couple was honored at a post-wedding reception on Aug. 12, at The Georgetown in Boardman.
Jenna Diorio, sister of the bride, served as maid of honor, and bridesmaids were Gina Garcar, cousin of the bride, and Juanita Davidson, sister-in-law of the groom.
Jacob Davidson, twin brother of the groom, and Tejae Petty, friend of the groom, served as best men. Brian Garcar, cousin of the bride, was a groomsman for the couple.
The bride is a high school English teacher in the Wake County Public School System in Cary, NC. The groom is employed as a carpenter and a contractor at Home Detailing and Repair in Apex, N.C. The couple have made their home in Cary, NC, with their two dogs.